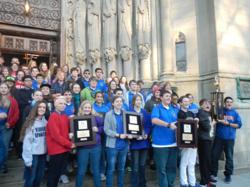 http://www.waterfront-properties.com/jupiterloxahatcheeclub.php [Visit The Loxahatchee Club, __title__ The Loxahatchee Club,] has set the bar for music excellence in Florida.
JUPITER, FL (PRWEB) May 12, 2013
Jupiter Middle School's top-notch band and chorus, led by Paul Destito and Jerri Goffe, recently traveled to New York City to take part in the Heritage Festival, an international competition involving students in school music programs. A total of 66 students from the Jupiter Middle School, chaperoned by 28 adults, made the journey.
Among the savvy students and proud parents who traveled to the Big Apple were Erik Pariseleti, a real-estate agent at Waterfront Properties and Club Communities who specializes in Tequesta homes for sale, and wife Michelle Pariseleti, a graphic designer for the licensed brokerage based in Jupiter. The Pariseletis twin daughters, Abby and Anika, 14, attend Jupiter Middle School, where Abby plays the flute in the concert band, and Anika plays the trombone in the both the concert and jazz bands.
"Jupiter Middle School has an incredible band program and another great reason to live in Jupiter," Eric Pariseleti said.
The Jupiter Middle School music program -- continuing its long legacy of excellence -- won the Gold Award in the choral, concert-band and jazz-band divisions. Because the choral group won the top prize they have been invited to take the stage at Carnegie Hall's Choral Festival of Gold later this year.
The jazz band earned the much-coveted Heritage Festival Adjudicators Award for top jazz band at the festival. The jazz band's Isabel Gilroy, Alice Maffei and Ian Press each received the Maestro Award for Outstanding Jazz Solo.
For nearly half a century, Jupiter Middle School, set in a residential area near The Loxahatchee Club, has set the bar for music excellence in Florida.
"We are happy to be the latest stewards of that great tradition," Destito said.
Destito thanked the administrators at Jupiter Middle School, along with the families and the students, for making the trip to New York City a success no one will forget.
Cultural activities during the four-day trip included visiting Rockefeller Center, experiencing the elegant Russian Tea Room, seeing the high-energy production STOMP, taking a guided tour of famed Central Park, stopping by the Lincoln Center and spending time in the American Museum of Natural History. The students and parents also saw a New York Yankees game, Broadway's Phantom of the Opera, a cruise around the Statue of Liberty and more, a trip through Chinatown and shopping in Times Square.
For additional information about Jupiter Middle School's music program, call Destito at 561-745-7200.
For additional information about Waterfront Properties and Club Communities' homes for sale in Tequesta, call Pariseleti 561-262-5692 or visit http://www.tequestahomes.us.