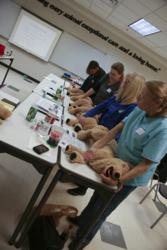 "In pet emergencies at home, minutes count. Park Cities Pet Sitter is committed to having the best trained sitters they can." Arden Moore
Dallas, TX (PRWEB) May 13, 2013
In the decade since Dallas-based Park Cities Pet Sitter, Inc. President Joette White has owned her company, she has seen a wide range of pet emergencies occur while animals were under her company's care; from elderly pets passing away, pets who injured themselves in their own home, unexpected pet health emergencies requiring veterinary care, and many more. Having clear policies in place to guide her staff on what to do when such emergencies occur has long been a cornerstone of her business, but recently Ms. White decided to take this a step further by getting 16 of her pet sitter staff officially certified in Pet First Aid and CPR by national pet expert Arden Moore, a Master Certified Pet First Aid Instructor and IAABC-certified Pet Behaviorist.
"With the hundreds of pet visits we do every single day, we know that it is inevitable that a pet in our care might experience some kind of health emergency. We have protocols in place to guide our sitters on how to handle such emergencies, but I am very excited to also now have so many of our sitters be graduates of a comprehensive training program on both Pet First Aid and Pet CPR," says Ms. White.
The hands-on Pet First Aid and CPR courses were held at the Dallas ASPCA in early 2013, and were taught by Arden Moore. Miss Moore is one of 14 master certified instructors with Pet Tech, the world's premiere pet first aid/CPR and care programs. She was assisted by her cat, Zeki, the first feline in the Pet Tech program; and a pair of pet first aid dog assistants from Dallas named Ebony and Burt. Zeki, Ebony and Burt gave the professional pet sitters opportunities to practice life-saving skills on real pets.
"It was an honor coming to Dallas to teach Park Cities Pet Sitter's staff pet first aid, CPR and behavior," says Ms. Moore. "In pet emergencies at home, minutes count. I applaud Joette White and her team at Park Cities Pet Sitters for investing the time to learn pet first aid so that they can be better health allies for their clients' most priceless assets – their pets. Park Cities Pet Sitter is committed to having the best trained sitters that they can."
The day-long training class included trauma assessment, how to properly restrain and muzzle an injured pet, choking management, bleeding/fracture protocols, CPR, and care for things like heatstroke, frostbite, seizures and shock. The training course provided hands-on practice of the first aid techniques on "dummy" pets, in addition to having Zeki, Burt and Ebony as real and tolerant pets to practice on.
"Having real pets to practice these life-saving techniques on really reinforces how important this knowledge is for our sitters," says Ms. White. "Our clients entrust their precious furry and feathered family members in our care on a regular basis, so being prepared for even the most remote pet medical emergency really should give our clients additional peace of mind, in addition to making our pet sitters the best-trained and prepared group working in the Dallas area."
Ms. Moore plans to come back to Dallas in the fall of 2013 to finish training Park Cities Pet Sitter's newest sitters so that they can also earn two-year certifications in pet first aid.
Park Cities Pet Sitter, Inc. has served the Dallas area 7 days a week, 365 days a year since 1992. Pet sitting, daily dog walks, pet taxis, overnight sitting, pet supply shopping, litter box cleaning and dog training are all part of the services PCPSI offers. Park Cities Pet Sitter, Inc. is bonded and insured, and all sitters are employees--not independent contractors. A manager is on-call 24 hours a day to handle any emergencies. Additional information about Park Cities Pet Sitter can be found on their website at http://www.pcpsi.com.
ARDEN MOORE -- Founder of Four Legged Life.com and creator of National Dog Party Day, Arden Moore is known as The Pawsitive Coach™. She is an animal behavior consultant, best-selling author, professional speaker, media consultant and certified pet first aid master instructor. She has authored 24 pet books. Each week, she hosts A-list celebrities and top pet newsmakers on her Oh Behave! Show on Pet Life Radio.com, drawing more than 800,000 loyal listeners. She shares her Oceanside, Calif. home with rescue dogs, Chipper and Cleo, cats, Murphy and Zeki and an overworked vacuum cleaner. To learn more, please visit http://www.fourleggedlife.com, http://www.petfirstaid4u.com, http://www.petliferadio.com and http://www.dogpartyday.com.