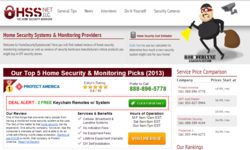 Customers can personalize their wireless home security systems to adapt to almost any need.
Austin, Texas (PRWEB) May 10, 2013
The decision was based on Protect America's long track record of high quality equipment, dedicated customer service, and the lowest prices in the industry. Along with the number one ranking from HomeSecuritySystems.net, Protect America's products have also been recognized for their value. Consumers Digest, for example, has named the company's Copper Package one of their 'Best Buys' for each of the past five years.
In addition to home security monitoring, HomeSecuritySystems.net also noted the excellence of other Protect America products and services. Protect America's interactive access for home security, known as Smart Connect, was given high praise for its design and simplicity of use. The company was also praised for its choice of monitoring options, such as broadband, landline, and cellular, that are not generally offered by other home security providers.
Protect America was also noted for the high degree of customization offered by their technology. Customers can personalize their wireless home security systems to adapt to almost any need. For example, households without a landline or stable Internet access can choose a cellular monitoring connection. HomeSecuritySystems.net gave special weight to this factor because many home security companies only offer one type of monitoring option.
Interested customers should visit http://www.ProtectAmerica.com to learn more about Protect America's products and services.
Call 1-800-951-5190 to speak with a Protect America home security expert about a wireless alarm system.
Visit http://www.ProtectAmerica.com/shop/home-security-systems for more information.
About Protect America, Inc.
Protect America is an Austin, Texas-based provider of wireless home security systems that employs approximately 400 people. Since the company's founding in 1992, Protect America has secured nearly 400,000 American homes. Protect America is part of the Rockbridge Growth Equity family of companies that includes the Cleveland Cavaliers and Quicken Loans.