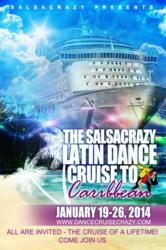 All the fun, adventure and romance of a regular Caribbean cruise, plus all the spice and excitement of a dance cruise, with the extra passion of salsa dancing, all gone SalsaCrazy.
San Francisco, CA (PRWEB) May 15, 2013
SalsaCrazy.com (http://www.SalsaCrazy.com), an extremely popular and long lived online salsa resource for worldwide salsa dance enthusiasts, is excited to announce the Salsa and Bachata Dance Cruise 2014. The cruise is an amazing seven day adventure from January 19th through the 26th that takes lucky dancers, salseros and bachateros, to several of the most gorgeous ports in the Southern Caribbean.
The SalsaCrazy Salsa and Bachata Dance Cruise has a 7 Day Southern Caribbean Itinerary that includes San Juan, Puerto Rico, Charlotte Amalie, St. Thomas, Basseterre, St. Kitts. Oranjestad, Aruba, Willemstad, Curacao, and San Juan, Puerto Rico. The cruise mixes great ports of call with fantastic dancing, daily dance classes and parties with all the regular adventure of a Caribbean cruise.
Evan Margolin, SalsaCrazy.com founder and internationally-acclaimed salsa dance instructor, can't wait for the Salsa Cruise ship to set sail. "If you've never had a cruise before, and even if you've had, a Salsa Cruise provides you with a unique vacation! Every night there is endless food, drink, dancing, music, people, and fun. Every day there is sun, beaches, cool breezes, more dancing, more music…more of everything. It's a sensational experience in paradise!"
"Everyone, without exception, will have a phenomenal time," exclaims Margolin. "And, with a boat filled with salseros, brand new or seasoned, you can only imagine the never-before-seen cruise moments we're sure to create!"
The SalsaCrazy Salsa and Bachata dance Cruise 2014 includes:
Salsa, Merengue, Cha-Cha, and Rueda Dancing and Workshops (Beginning, Intermediate, and Advanced), Dance events every day at Sea, DJ Music for best dancing. In addition to the best salsa lessons from sensational instructors, guests will enjoy parties, prizes, and surprises throughout the entire cruise.
The Cruise Price includes:
All Workshops and Dances
All Stateroom Accommodations
All Meals with world-renowned Carnival Fine Dining
All Ship Activities and Entertainment
All Ports of Call
The cruise features all the great activities and amenities of a Southern Caribbean Cruise – Plus the fun and excitement of a Salsa & Bachata event at sea. Those booking with SalsaCrazy and DanceFun, will enjoy many hours of dancing throughout the cruise and workshops on our days at sea with great professionals.
"These salsa cruises are the ultimate combination of gorgeous destinations, a wonderful cruise ship and the best of entertainment and dance that the world has to offer," Margolin said. "We definitely don't want anyone to miss the boat, so we have dedicated a whole website to cruising information."
SalsaCrazy has put on several successful salsa cruises and knows how to throw a great party.
About SalsaCrazy.com
What was once just his passion, Evan Margolin has turned into a very popular dance school, DVD series, and website fueling the worldwide salsa dance craze. With a goal of helping beginner dancers learn the joy of salsa dancing, Margolin has created a suite of fantastic opportunities to get people out on the dance floor, including: DanceSF—the premiere salsa dance school in the San Francisco Bay area staffed by internationally-recognized salsa instructors; Learn to Salsa (http://www.SalsaDanceDVD.com) - a 3-set DVD collection with over 6 hours of dance instruction guaranteed to turn any beginner into a dance aficionado in just minutes; and, SalsaCrazy.com—a one-stop online destination for comprehensive Bay area salsa event and nightlife information.
For more information on upcoming cruises, visit http://www.DanceCruiseCrazy.com .