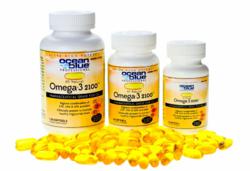 "We ensure the finest ingredients, the strictest of standards and a strong commitment to good health demonstrating that SCI is an industry leader in omega-3 formulation, development and manufacturing," said Frederick D. Sancilio, Chairman and CEO.
Riviera Beach, Florida (PRWEB) May 15, 2013
The newly designed product line boasts a vibrant yellow color pallet and modern logo. In addition, SCI is introducing a new 30 count bottle to replace a 30 count blister box. All of the new features represent the strength and quality of the Ocean Blue© Professional products.
The Ocean Blue© Professional Omega-3 2100™ provides 2,100 milligrams of omega-3: 1,350 mg of Eicosapentaenoic Acid (EPA), 600 mg of Docosahexaenoic Acid (DHA) and 150 mg of Docosapentaenoic (DPA) per serving. SCI has been providing the health industry with the highest purity omega-3 products for over 5 years.
About SCI - Sancilio and Company, Inc. is a vertically integrated pharmaceutical company focused on the development, manufacture and sale of cardiovascular, dental and women's health products. In addition to providing consulting services, SCI operates sophisticated analytical, development and scale-up laboratories, as well as state-of–the-art soft gelatin capsule, tablet and liquid manufacturing lines, in its Florida-based facilities. SCI's products include Ocean Blue® Professional Omega-3 2100™, which contains 2,100 mg of omega-3 per serving, chewable and liquid prescription sodium fluorides, and prescription prenatal vitamins.
Additional information about SCI can be found on the web at http://www.sancilio.com and http://www.oceanblueprofessional.com.