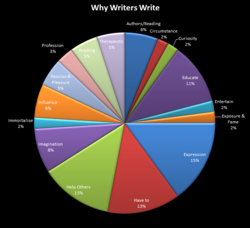 It's who I am. It's what I love. I even write for fun on top of writing for a living. I couldn't NOT write. I need to write like I need to breathe, to eat, it's vital to me.
Cynthia MacGregor, Writer, Editor, TV Host & Speaker
(PRWEB) May 15, 2013
Author's Promoter has been busy querying published authors about why they write; the study shows some interesting results and answers the very frequently asked question "why do writers write?"
Click here to view the results of the study "Why Writers Write".
The study included a wide variety of authors from a number of different genres, as well as different professions ranging from journalists, playwrights and of course novelists and non-fiction book authors as well as technical writers.
The study not only gives the results in an easy to digest visual format but also provides quotes from authors that relate to the particular reason for writing; the information is provided free for all to read and is intended to be an ongoing research project with space for other authors to also give their reasons for writing.
The list of authors that submitted their reasons for writing include award winning and best selling authors in various genres, some authors that stood out during the research were an author that lived with Christian Bale (Batman) for over ten years; Rita Gigante daughter of the crime boss of the Manhattan Genvoese Family, an author that has 100 traditionally published books, an author that has written scripts for Tina Fey and UN Secretary General Ban Ki-moon; up and coming actress, activist and playwright Raegan Payne; Bruce Hurwitz a publisher, author and recruiter and many more very interesting authors.
Why do Writers Write? 30% of Writers write to Educate, Influence & Help Others.
Author's Promoter has also started work on revolutionizing the way readers find new books, with the development of the site Characters World.
"We are doing something awesome; we want you to be a part of it! We all know that people fall in love with well crafted characters with great stories! As authors we fall in love with our characters and so do our readers. This is why we want to display your characters in an awesome way! We want to let readers browse through characters and find characters they want to read more about! Be part of the magic!" ~ Charles J Deguara Founder of Author's Promoter
Early bird (first 500 characters) basic inclusion is free. Authors Click here to submit your characters now!
Characters World is being developed to allow readers to search through a multitude of characters by age, profession, time period, interests, physical characteristics and much more. This will allow readers to choose books by characters they can really connect with.