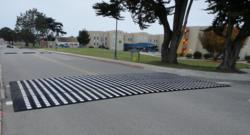 Campus police are really happy with the solutions. Some of the students find them annoying but if that's the price to pay for safety, it's worth it.
Monterey, CA (PRWEB) May 14, 2013
In anticipation of a new roadway opening that would make campus roads at Cal State University Monterey Bay (CSUMB) a convenient cut-through for commuters, the University installed a variety of traffic calming solutions. Reports on the Traffic Logix rubber and radar sign solutions on campus have just been released earlier this week. To the satisfaction of University personnel, the devices are doing their job.
CSUMB is located between Salinas and Monterey, which is a popular commuter route from the residential Salinas neighborhoods to the more tourist-focused Monterey. The central location has made campus roads a popular cut-through for local traffic, creating safety concerns for the University and endangering its status as a walkable university campus. The recent construction of a housing development near the edge of campus is prompting the opening of another cut-through road, which is anticipated to add an additional 2,000 trips per day, a 20 percent increase of regional commuter traffic right through the heart of the campus.
The opening of the road concerned University officials as it stood to exacerbate safety issues, reducing campus walkability and bikability and increasing the occurrence of speeding vehicles cutting through the University to hasten their commute. In a pilot program that began in early 2013, CSUMB decided to implement a variety of traffic calming techniques to dissuade commuters from cutting through while simultaneously reducing vehicle speed and improving safety for the campus community.
After researching several traffic calming alternatives, the University decided to use elevated crosswalks, speed lumps, speed humps, flashing stop signs, radar speed signs, enhanced signage including a "Bike & Pedestrian Safety Zone" and removal of stop signs at unwarranted intersections. Megan Tolbert, the CSUMB Transportation Planner researched several alternatives and discovered Traffic Logix, a New York-based company that offered a wide range of traffic calming solutions and could serve as a one-stop provider for the speed lumps, humps, and radar signs.
The Traffic Logix speed lumps and humps are constructed of modular recycled rubber units. The rubber solutions can be bolted down to the roadway and then removed and reinstalled as necessary. This made them ideal for University roads where the routing system is not fully developed and solutions may need to be moved, expanded, or narrowed. The green-focused University was also excited to use a product made of 100 percent recycled materials.
The speed lumps, also called speed cushions, are constructed of several small speed humps with spaces between them. The split design serves a dual purpose at the University, allowing emergency vehicles to maintain response time as they straddle the lumps while also accommodating bicycle traffic. The rubber devices can get slippery for cyclists in Monterey's fog but the split design allows them to ride between the lumps while cars must slow to drive over them.
The humps and lumps were placed around the main quad to protect students and faculty.
The Safepace 600 variable message signs the University purchased display vehicle speed with rotating messages such as "slow down" or "your speed". The messages are completely customizable with the accompanying software including text, graphics, and animation. The University placed them at strategic locations where drivers tend to speed to alert them and encourage them to slow down.
"We're happy with all of the solutions we've installed," said Ms. Tolbert. "The signs are really visible and we like that you can manipulate the messaging. We're proud to be using speed humps and lumps constructed of recycled rubber. I'd have to say the lumps are our favorite of all the solutions. They're great at slowing vehicle traffic but don't hinder emergency vehicles and give bikes easy passage."
Katie Timmerman, who works in the Campus Planning & Development department at CSUMB noted that "campus police are really happy with the solutions. Some of the students find them annoying but if that's the price to pay for safety, it's worth it."
An engineer was contracted to conduct a traffic study of the campus roads to analyze problem areas and see if the solutions would improve safety and reduce cut-through. The post-installation study was just completed and the results look promising.
"We are definitely seeing a difference," said Ms. Tolbert. "There has been a definite improvement in cut-through traffic and we are meeting the safety goals we set for ourselves."
The traffic calming solutions are ensuring that the CSUMB campus is safer for drivers, pedestrians, and bicyclists. And a safer campus is good for everyone.