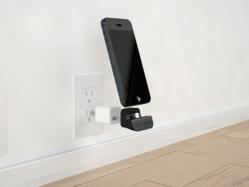 Pasadena, Calif. (PRWEB) May 14, 2013
For consumers looking to rebuild their charging arsenal, Bluelounge is thrilled to release its beloved MiniDock, now with a Lightning connector for iPhone 5. Holding devices upright and secure while charging, MiniDock plugs directly into the wall via Apple USB power adapter to free up counter or tabletop space at home or on-the-go.
The ideal travel companion, MiniDock's compact and lightweight design make it easy to slip into a briefcase or carry-on. With MiniDock, consumers no longer have to lay their iPhone on the floor in airports and hotel rooms or set it in the splash zone on the bathroom counter while charging. MiniDock is also available in US, UK and EU versions to fit different Apple adapters and region-specific sockets.
MiniDock is available in a Lightning version, compatible with iPhone 5, at a suggested retail price of $39.95 as well as the original 30-pin version, compatible with iPod and iPhone 4/4S, at a suggested retail price of $19.95.
For more information on MiniDock, visit http://www.bluelounge.com/products/minidock/
Follow Bluelounge on Twitter at twitter.com/bluelounge and on Facebook at facebook.com/bluelounge for the latest news on all Bluelounge products.
About Bluelounge
Bluelounge is an award-winning, international design studio known for its clever products that solve everyday problems through design.
Each product is designed to provide an effortless solution that stands the test of time and integrates into your life so seamlessly, you can't remember living without it.
Under the creative direction of Dominic Symons, the Bluelounge team is a vibrant collective that champions ingenuity and embraces creativity to fuel innovation.
Bluelounge is headquartered in Singapore, with studios in Jakarta, Indonesia and Pasadena, California.
Bluelounge products are currently available online and at select retailers worldwide. To find a retailer nearby, please visit our store locator.
Note to reporters: High-res images are available here: http://www.bluelounge.com/media
# # #