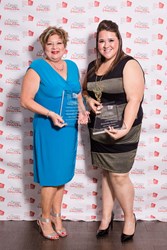 We continue to strive to meet the needs of our clients in an always-evolving industry. It gives us great pleasure to see how our clients embrace their newly designed spaces and how it impacts the way they view and enjoy their environment.
Dallas, Texas (PRWEB) May 14, 2013
Baker Design Group is proud to be recognized as a quadruple award winner in the 2013 Dallas Design Ovation Awards, which was announced at a celebratory gala at The Nuvo Room on Friday, May 3.
Annually, the design community comes together for the American Society of Interior Designers (ASID) Dallas Design Ovation Awards to acknowledge the finest achievements in interior design, architecture and special contributions to the community. This year a jury of industry professionals reviewed hundreds of entries submitted by ASID chapter members and selected winners in multiple categories.
Baker Design Group, led by Linda Baker, won first place for their entries for Emerging Designer and Outdoor Living Space and third place honorable mentions for their Dining Room and Master Bedroom entries.
Winning the Emerging Designer category was the design of a trendy Uptown townhome. Custom carpentry and modern, geometric patterns complement the sophisticated design with creativity and a pop of the unexpected. A sophisticated melting pot of metallic finishes, from gold to bronze to silver and pewter, evokes a classic and refined palette throughout the home. Addressing every last detail, the design also includes custom stair railings, custom art and custom pillows and accessories.
"I have watched Linda Baker, Lisa Sorenson and the entire team at Baker Design Group really break out with innovative designs over the last three years and was thrilled to see them receive that kind of exposure and recognition," said Kimberly Barrow, Co-Chair of the Design Ovation Awards Ceremony. "The scope of work required to design that outdoor living space was really involved."
The exceptional design of a lake house's outdoor living space earned Baker Design Group the top honor in this category. The functional and fashionable design and the outstanding use of performance textiles to infuse character to the exterior space also were featured in the January 2013 issue of Casual Living magazine. Inspired by the paprika red of the house and the new gazebo, the design team implemented vibrant shades of red and orange, while cool blues and aqua dot the scene and nod to the water and blue skies surrounding. "With so many seating areas, we had to have a solid palette to jump from for textiles and upholstery, uniting all the furniture and bringing that spa-like getaway feel," Heather Mattox, head of outdoor design, said.
A colorful interpretation of a transitional dining room with walls in a saturated aqua blue color, strong details in furniture and clean lines received a third place honorable mention in its category. Combining wood tones from espresso to zebra wood, the richness of color is contrasted with the chic ivories and grays allowing details and architecturally interesting elements to truly pop. An inventive collection of mirrors and architectural accents on the wall make this a truly unique space, matched by a one-of-a-kind custom painting.
A luxurious master retreat with a rich palette of neutrals and metallic finishes also received a third place honorable mention in the Master Bedroom category. A custom handcrafted wall covering fills the room with an opulent first impression and is the star player in the design. Custom bedding, in a balance of heavily textured velvets to silks and linens, brings a layer of depth and monochromatic color in front of the feature wall, while a neutral headboard and bench frame out the focus.
"We are honored to have received Design Ovation Awards, and it is humbling to be selected by our peers for such prestigious awards," principle designer Linda Baker said. "We continue to strive to meet the needs of our clients in an always-evolving industry. It gives us great pleasure to see how our clients embrace their newly designed spaces and how it impacts the way they view and enjoy their environment."