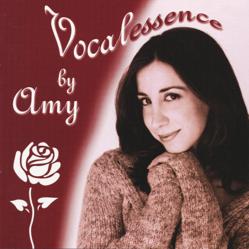 In a world where music has become increasingly synthetic, it's nice to see a return to the authentic.
Los Angeles, CA (PRWEB) May 16, 2013
Aspiring Adult Contemporary indie artist, Amy, gives a refreshing performance in an overlooked corner of the genre with the first video from her debut album "Vocalessence by Amy". Amy's vocalizing style on this track, which has no words, introduces upbeat Pop/Jazz to a worldwide audience. The technically ambitious video was shot, edited and directed by the song's award-winning songwriter/producer Randall Michael Tobin, and within four days of being uploaded on YouTube, had received over 20,000 views.
Vocalessence is the first in a series of videos introducing Amy to an audience of people who appreciate and value original music. With direct-to-the-people YouTube video successes of recording artists PSY (Gangnam Style) and Gotye (Somebody That I Used to Know), releasing an engaging video to a catchy song gives an unknown independent artist like Amy the best opportunity to connect with her true audience.
The album of the same name features 12 songs that bring to mind elements of Norah Jones, The Swingle Singers, Karen Carpenter, Sheryl Crow, Carole King, The Manhattan Transfer, Amy Grant and Céline Dion. "Vocalessence by Amy" is an album that broadens the Adult Contemporary landscape and embraces many styles all tied together by the personality, sincerity and voice of music's newest hopeful, Amy.
Of the 12 songs on the album, 10 were written/co-written by award-winning songwriter/producer, Randall Michael Tobin, in collaboration with Amy and Nancy Hemmings. One of those songs, "Kinda Cool," took First Place in the 14th Annual Great American Song Contest 2012 in the Adult Contemporary category. The two cover songs feature fresh arrangements of Dean Martin's "That's Amore" and the Beatles' "In My Life."
"Working with Amy has been a dream," said Tobin. "Her ability to reach out through the speakers and captivate the listener with her honesty and sincerity is truly amazing." "People around the world who value great music with meaningful messages, need this album," he added.
But the album that would become "Vocalessence" almost didn't happen. Randall recounts, "Amy was referred to me by her voice coach, Bob Corff, to record a demo. In the process of trying to record one of her original songs, 'Day After Day,' I noticed the backing track she brought in was interfering with her lead vocal. I asked Amy if she could get me the separate tracks to remix them, but they were no longer available. I ended up rewriting the song in a completely different style. When Amy heard the new arrangement, she lit up! And once we started recording the vocals for the new version, we knew we were creating something very special."
Amy herself has a higher purpose in seeing "Vocalessence" bear fruit, stating: "I am hopeful that any success from this album will help fund an upcoming project called 'Music for Blood,' an album that will be dedicated to raising public awareness of Thalassemia, a serious genetic blood disease that occurs most frequently in people of Mediterranean, North African, Middle Eastern, South Asian, Southeast Asian, and Central Asian descent."
Randall summed it all up, adding, "In a world where music has become increasingly synthetic, it's nice to see a return to the authentic with 'Vocalessence by Amy.' We're on a mission to get this album known to every music lover out there."
The next video scheduled for production will be "That's Amore," followed by the award-winning song, "Kinda Cool."
Vocalessence Video on YouTube: http://www.youtube.com/watch?v=m8DOymRv7EE
Backstory on the making of "Vocalessence by Amy" plus music clips from the album:
http://vocalessencebyamy.com
CONTACT:
Randall Michael Tobin
Theta Media Group, Inc.
Burbank, California
818.955.5888
rmt(at)thetamediagroup(dot)com