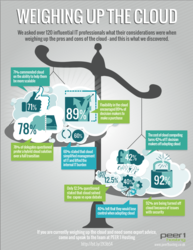 Southampton, UK (PRWEB UK) 14 May 2013
The fear of security threats is preventing 92% of IT decision makers from adopting the cloud, according to an infographic released today by global web hosting company PEER 1 Hosting. The infographic, based on the results of a survey of 120 IT professionals, revealed a number of concerns when weighing up the cost of the cloud.
Flexibility in the cloud encourages 89% of decision makers to make a purchase, while 71% of respondents feel scalability is a key benefit to their business. However, only one in five respondents trusted the cloud enough to make a full transition – with 78% preferring to opt for a hybrid cloud solution.
Dominic Monkhouse, MD EMEA and SVP customer experience at PEER 1 Hosting, commented: "The security risks presented by the cloud are the same as those associated with using Gmail, Facebook or Dropbox, yet people still store even their most personal details in these public domains. In our research we're seeing that although companies understand the multiple benefits of the cloud, they're still being put off by security risks.
"These results show that the industry needs to do more to communicate the fact that enterprise cloud solutions use even more stringent security protocols than consumer software. Our public cloud offering utilises the best security solutions available."
The survey, carried out at the Cloud Expo tradeshow in January, highlighted a high demand for simplified, cost-effective business cloud services. Nearly half of the respondents (42%) claimed they were put off by the cost of migrating to the cloud, with one in eight (12.5%) believing the cloud is a solution to the capex / opex debate.
PEER 1 Hosting recently launched its enterprise grade public cloud. The platform provides best-in-class security as well as built in disaster recovery and cloud management functions for day-to-day automation. The solution is powered by Tier 3's cloud services, which are virtualised with VMware to provide security, performance and reliability in the cloud.
To learn more about PEER 1 Hosting's Mission Critical Cloud, please visit: http://www.peer1hosting.co.uk/cloud-hosting/mission-critical-cloud
To view the infographic please visit: http://www.peer1hosting.co.uk/sites/default/files/images/cloud-hosting/weighing-the-cloud-infographic.png
ENDS
About PEER 1 Hosting
PEER 1 Hosting, a wholly-owned subsidiary of Cogeco Cable Inc. (TSX: CCA), is one of the world's leading web hosting providers, specialising in Managed Hosting, Dedicated Servers, Colocation and Cloud Services. Based in Vancouver, Canada, with European operations headquartered in Southampton, UK, the company has been serving commercial customer needs since 1999. PEER 1 Hosting is built on two obsessions: Ping & People. 'Ping' represents its commitment to best-in-breed technology, founded on a high performance 10Gbps FastFiber Network(tm) connected by 20 state-of-the-art data centres. 'People' represents its commitment to delivering outstanding customer service to its more than 13,000 customers worldwide, backed by a 100 per cent uptime guarantee. For more information visit: http://www.peer1hosting.co.uk
For More Information:
Champion Communications
(+44) 207 637 2587
PEER1Hosting(at)championcomms(dot)com