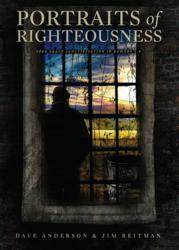 Lynchburg, VA (PRWEB) May 14, 2013
Liberty University Press released "Portraits of Righteousness," an inspirational work on key concepts from the Bible.
The concepts of justification and sanctification have been at the center of debate among Christian theologians since the beginning of the Reformation. A proper understanding of how justification and sanctification are related to Christianity and each other is essential for any scholar or student of Christianity. "Portraits of Righteousness" draws from the Apostle Paul's writings in Romans 5-8 of the Bible to elucidate this critical relationship.
Through a collection of stories, authors Dave Anderson and Jim Reitman aim to demonstrate freedom from the bondage of sin, the abundance of life found in Jesus Christ, and that through the power of the Holy Spirit believers can display the righteousness of God. They desire to provide hope to their readers and encourage them to live life as a new creation with their God-given identity.
"Portraits of Righteousness" is now available on Amazon and Barnes & Noble.
About the Authors:
Dave Anderson (Th.M., Ph.D., Dallas Theological Seminary) is president and professor of Biblical Languages and Systematic Theology at Grace School of Theology in Texas. Anderson previously published "Free Grace Soteriology," a piece on salvation that emphasizes God's free gift of grace through Christ. Dave has been involved in church planting and has served as a pastor for more than 30 years.
Jim Reitman (MD, Washington University; M.A., Dallas Theological Seminary) is a retired Air Force physician, mentor, and teaching pastor in Colorado Springs. Jim published a scholarly exposition of Job and Ecclesiastes, "Unlocking Wisdom: Forming Agents of God in the House of Mourning" (2008).
About Liberty University Press:
Liberty University Press remains at the forefront of helping more Christian authors than ever achieve their personal publishing goals. Visit Liberty University Press online for more news and information.
About Liberty University:
Liberty University, founded in 1971, is the largest private, non-profit university in the nation, the largest university in Virginia, and the largest Christian university in the world. More than 100,000 students attend classes on its 6,800-acre residential campus and study in its thriving online education program.