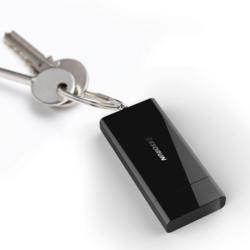 3 in 1 key ring charger --that is also a key chain cable and USB flash drive.
Las Vegas, NV (PRWEB) May 21, 2013
Esorun, a MFi authorized company (MFi license 6.1) that specializes in iPhone accessories, wireless external hard drives, power banks, external batteries and other accessories recently announced a new product that they are planning to launch in the near future. The product may look like a simple key ring power bank at first, but it is much more than that. It is a key chain charger that is also a portable cable and a USB flash drive all in one.
Since the announcement of the key chain charger, many people already plan on purchasing it. With this charger, users will never have to worry about running out of power again and they will always have a USB flash drive in handy - the memory capacity ranges from 4GB to 32GB. Another plus would be the fact that as long as the user has this key ring, they will never forget their cable. As long as users have their keys on them, they will always have an emergency charger at hand. Its capacity is 800mAh, which will provide more than 40% of battery for an iPhone 5.
Some customers already think this is going to be the best gadget on the market when it comes out. It is small in size, multi-functional, has a smart design and there is no switch button (it automatically charges the mobile device as soon as it is plugged in. It offers connector ( Selectable connector types: 8-pin connector, 30-pin connector and Micro USB)and USB plug on the same side, which helps save space.
The KR800 key ring charger has built-in flash memory – 4GB, 8GB, 16GB and 32GB.
Specifications of the Key Ring

Capacity – 800 mAh
Input: 5V 500mA
Output: 5V 500mA
Charging Time: 1.5 hours
Cable length: 70mm
Size: 72x32x11.5mm
Weight: 40g
Connectors:

30-pin connector
Micro USB
8-pin connector
As the MFi license 6.1 holder, Esorun plans on applying for MFi certification for both the 30-pin and the 8-pin connector key chain charger.
More About Esorun: The Company Behind the Portable Charger
Esorun is a professional technology company located in Shenzhen, China. They specialize in various products such as wireless external hard drive s, bluetooth speakers, power banks, iPhone 5 battery case and much more.
About the Key Ring Charger
The Key Ring Charger, created by Esorun is capable of charging mobile devices on the go. It is a portable charger, portable cable and USB flash drive all in one.