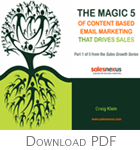 Sales people can focus their calls on the most qualified prospects.
Houston, Texas (PRWEB) May 16, 2013
SalesNexus, today announced the release of the newest, Release 3, of its Customer Relationship Management and Email Marketing solution for sales teams.
Today, SalesNexus released a complete redesign of its comprehensive email marketing system. Release 3 of SalesNexus includes several improvements designed to make getting started with email marketing easier for sales people with little to no email marketing experience.
Additional enhancements include:

Detailed Campaign Analytics in graph and list form
Easy ability to use the Email Campaign Analytics for follow up marketing and sales
Improved, faster download of contact lists from LeadFerret.com
Improved Email Template design tools
Easy ability to embed trackable links to documents (PDF, Word, Excel and more) in emails
Improved ability to quickly make changes to existing campaigns as you see the results
"Our solution enables a completely new way to identify qualified sales prospects. When you send a few emails to a list of leads, you know which ones are most interested by who opens and clicks those emails. Sales people can the focus their sales calls on those most qualified prospects," said Craig Klein, CEO and founder of SalesNexus. "Our typical user is a sales person, sales manager or business owner, not an experienced marketer. That's why we've focused on making Release 3 as easy as possible for newbies to get started with."
SalesNexus, in partnership with LeadFerret.com, provides every user with 500 business contacts, including email addresses, every month, at no additional charge. SalesNexus enables any contact, from LeadFerret, current customers, Outlook contacts or leads from the website, to receive on-going email messages completely automatically.
"In early 2013, our 'The Magic 5 of Content Based Email Marketing that Drives Sales' webinar series showed how to develop highly qualified sales prospects using email marketing focus on informational content. Now Release 3 makes it easy for anyone to get started," said Klein.
Release 3 is available now as a 30-day free trial on the SalesNexus website. During the 30-day trial, users can also access their 500 LeadFerret contacts.