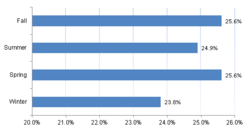 Spring and fall are, at least two of the best seasons in Canada; it's not yet construction season (also known as summer).
Toronto, ON (PRWEB) May 23, 2013
One thing drivers can not avoid is the threat of getting involved in a car accident. Most drivers try their best to drive defensively to avoid getting involved in an accident while other drivers are more care-free with their driving. As a consequence, the warmer spring months are prone to more accidents than the winter.
Of all the car accidents disclosed during the auto insurance quotation process at KANETIX in 2012, 25.6 per cent occurred in the spring months (March, April and May) and also in the fall months (September, October and November).
This is how the seasons compare with regards to accidents:

23.8% of accidents occurred in December, January or February
25.6% happened in March, April or May
•24.9% took place in June, July or August

25.6% happened in September, October or November
No one wants to be involved in a car accident, no matter what the season. If a driver is involved in an accident, here are a few tips to help a driver to be prepared:
Stay calm and keep safety in mind at all times.
Report a car accident to the police if someone is injured or if the damage is over the provincial limit.
If the vehicles are driveable, and it is safe to do so, move them to the side of the road. If the car is not drivable move the vehicles and do not forget to set up warning signals or flares.
If possible, take photos of the accident scene.
Take note of the: time and date of the accident, location, driver names, contact details (phone and address), insurance information, make/model and licence plate numbers of all the vehicles involved, and the contact details for all vehicle occupants and witnesses.
Drivers should call their insurance company as they can often walk you through all of the steps necessary.
Spring and fall are, at least two of the best seasons in Canada; it's not yet construction season (also known as summer) and there's no bone chilling sting to the air. Regardless of what the season is KANETIX reminds drivers to enjoy the drive, stay focused and drive carefully.
About KANETIX®
Launched in October 1999, KANETIX was Canada's first online insurance marketplace and today provides over a million quotes per year to consumers looking for insurance, as well as comparisons for mortgage rates and credit cards.
The KANETIX comparison service is a one-stop shopping environment for consumers. Each day, thousands visit the KANETIX website at http://www.KANETIX.ca to comparison shop their various financial needs. Shoppers choose what they want to compare, obtain a quotation and complete an online application or, with the help of KANETIX connect with the provider to purchase or apply for the product over the phone.
Through its Software as a Service team, KANETIX is also the leading provider of online insurance quotation technology, developing online quotation systems, mobile solutions, actuarial tools and websites for many of Canada's largest insurance brands.