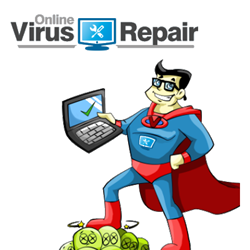 Some computers may be infected without the user being aware of it. Have your computer scanned professionally at least every 6 months!
San Luis Obispo, CA (PRWEB) May 22, 2013
As the zombie pop culture phenomenon continues to roll on, there is a real undead army lurking and waiting to attack unsuspecting victims. But this isn't an episode of The Walking Dead or the latest Hollywood zombie blockbuster. It's the millions of computers left vulnerable to infection by hackers that take over machines to do their bidding.
While the term "zombie" triggers images of grunting, bloodthirsty creatures, the word is used within IT circles to describe computers that have been hacked then directed to perform malicious tasks. The scary thing is – owners are typically not aware their machines have been compromised. And even scarier – these zombie computers are fleecing millions from unsuspecting victims all over the world on a daily basis.
Several large-scale attacks have already occurred, resulting in a massive army of zombie machines that experts say could result in a horrifying technological doomsday scenario. Once infected by a hacker, Trojan horse or virus, zombie computers can distribute millions of spam-emails and even launch denial-of-service (DDoS) attacks.
According to an article on Spamhaus published on March 28th, 2013, the latest news-making zombie assault was so widespread that millions of Internet users in Europe were affected in a malicious DDoS attack. At its peak, the Spamhaus debacle affected millions of Internet users all over the world in places like London, Amsterdam and Hong Kong.
While the Spamhaus attack did not appear to be money motivated, this is not the norm. Hackers are using zombies to scam individuals and organizations of billions of dollars each year. Dan Steiner, computer malware removal expert and co-founder of onlinevirusrepair.com stated, "Zombies are used to extract sensitive information from computers including social security numbers and credit card accounts. They can also be directed to send out millions of spam emails pitching bogus products and other Internet scams."
One of the largest zombie computer armies, referred to as botnets, is the infamous ZeroAccess botnet. Experts at IT security firm eSecurity Planet stated in an April 10, 2013 article that ZeroAccess was the biggest botnet threat during the first quarter of 2013, and is estimated to be three million machines strong with 100,000 new infections occurring daily. Strategies implemented by botnets like ZeroAccess include click fraud, clicking on an Internet advertisement to pile up hits, and bitcoin mining. These two strategies alone are earning botnet owners hundreds of thousands of dollars a day.
Some cyber experts state that a large scale DDoS attack against a municipality or even a state could halt food distribution, paralyze supply chains, shut down regional power grids and disable banks because they rely so heavily on technological frameworks. Such an attack "would cause widespread financial devastation," according to Steiner.
Experts state that approximately 50% of the infected computers within the ZeroAccess botnet are within the United States.
For help with virus, spyware, and windows virus removal, visit http://www.onlinevirusrepair.com.