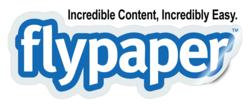 "Attendees of this webinar will come away with a wealth of insider knowledge."
Cincinnati, Ohio (PRWEB) May 21, 2013
Flypaper Studios announced that their next webinar will feature a demonstration of numerous tips and tricks from their in-house experts. Designers Mark Lesselyoung and Chris Varley will share their favorite techniques for creating engaging interactive displays using the latest release of Flypaper's content creation software, version 3.9. The free webinar is scheduled for May 22nd at 10:00 a.m. PT/1:00 p.m. ET.
"Nobody knows Flypaper like Mark and Chris," said Don Pierson, Flypaper founder and CEO. "Attendees of this webinar will come away with a wealth of insider knowledge."
Digital signage professionals who attend this webinar will learn:

Tips to help you work faster
Answers to frequently asked questions
And much more!
This session is part of Flypaper's ongoing webinar series, designed to share valuable content creation strategies, tips and trends within the digital signage industry.
To sign up for this free webinar, please visit Flypaper's registration page. To learn more about Flypaper version 3.9, visit Flypaper's website.
About Flypaper™ Studio, Inc. and Trivantis Corporation
Flypaper™ Studio, Inc. is a wholly owned subsidiary of Trivantis Corporation. Flypaper is a leading content creation platform that empowers users to create, share, track and reuse high-impact, interactive graphics and video content. The user edits and manipulates components without complicated programming. Trivantis' flagship product is Lectora®, the world's leading e-learning software. Lectora is used by Global 2000 companies in more than 125 countries and is available in six languages. Trivantis Corporation is headquartered in Cincinnati, Ohio, and has offices in Boca Raton, Phoenix, Paris, London and Beijing. Trivantis, Lectora, Flypaper, CourseMill®, Snap! By Lectora® and Snap! Empower are trademarks of Trivantis Corporation.
Website: http://www.Flypaper.com
Phone: 1.877.929.0188 / +1.513.929.0188