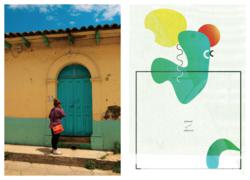 The trip was an intense, welcoming self-exploratory experience. We had the opportunity to reconnect with our country through a different lens. Design became highlighted as an element in life.
Santa Fe, NM (PRWEB) May 20, 2013
Six graphic design students at Santa Fe University of Art and Design (SFUAD) have published a book, The Importance Of…, which reflects their "graphic design as contemplative art" experiences during a university-sponsored trip to Mexico in summer 2012. The group, along with Graphic Design department chair David Grey, spent 23 days traveling throughout Mexico to draw design inspiration from the history, culture and environment of the area, which informed the content of the book.
The students include 2013 graduates Suzelle Camou, Fernando Garcia, Rebecca Alvarez and Ana Villa, as well as seniors Marco Lukini and Pablo Byrne. While all six students originally hail from Mexico, the trip provided an opportunity for them to see how the landscape and environment of their home country inspires and influences design.
"The trip was an intense, welcoming self-exploratory experience," said Alvarez. "We had the opportunity to reconnect with our country through a different lens. Design became highlighted as an element in life."
Visiting regions such as Chiapas and the Yucatan, the students explored various ecosystems, from limestone beaches to farmland to jungle environments, appreciating the sensory aspects of each region. They visited a Mayan papermaking collective, participated in a multi-generational Mayan barbeque, took a boat ride through crocodile canyons, toured archeological sites, swam in cenotes, and learned from Mayan healers in the jungle.
"This trip was the most profound educational experience I've ever had, enabling students to practice mindfulness and awareness while drawing inspiration for design," said Grey. "I believe a critical component of art education is to encourage experiences outside of the classroom that combine curiosity, contemplation and community amidst the awe of travel. This feeds the artistic soul and cultivates new ways of seeing and appreciating. We're trying to do something that no other art school is doing."
Grey also organizes weekend mindfulness retreats and contemplative hikes in the mountains of New Mexico, as well as other class trips. He traveled to Hawaii in December to give a presentation called "The Importance Of… Graphic Design as Contemplative Art" during the AIGA National Design Educators Conference. Grey highlighted the Mexico trip as well as an overview of the resulting book project. He will also present the same concept during the University and College Designers Association's Design Education Summit May 20–21 in Chattanooga, Tenn.
"My fellow design educators seemed impressed and inspired by the fact that the university had faith in the project and fully supported it," said Grey. "They were also impressed by the contemplative aspect of the program and the student work, which appears in the book."
This trip to Mexico is just one example of how innovative SFUAD programs are enriching student life and learning. Since joining the Laureate International Universities network in 2009, the university has welcomed nearly 250 international network students to campus, for both study abroad and traditional four-year programs. The university also continues to provide students with opportunities to study abroad. For instance, graphic design students can spend a year at Nuova Accademia di Belle Arti Milano (NABA), a renowned academy of fine arts and design in Milan, Italy, with the option of earning an additional degree.
In addition to leading the Graphic Design department's contemplative aspects, Grey teaches professional practice courses at SFUAD such as Designer as Entrepreneur.
About SFUAD's Graphic Design Department:
The Graphic Design Department at Santa Fe University of Art and Design examines the dual nature of graphic design: as a vehicle for contemplative art and a specialized profession. Students learn the digital tools, craftsmanship, history and theory they need to embark on a successful career path as a graphic designer. SFUAD's Foundation Year in Milan gives students the opportunity to spend their freshman year at the leading design academy NABA, Nuova Accademia di Belle Arti Milano, in Milan, Italy, a world capital of design. In a different program, students can study in Milan for one year as an upperclassman and receive a dual degree: a Bachelor of Fine Arts from SFUAD and a Bachelor of Arts from NABA.
About Santa Fe University of Art and Design:
Santa Fe University of Art and Design is an accredited institution located in Santa Fe, New Mexico, one of the world's leading centers for art and design. The university offers degrees in arts management, contemporary music, creative writing, digital arts, graphic design, film, performing arts, photography and studio art. Faculty members are practicing artists who teach students in small groups, following a unique interdisciplinary curriculum that combines hands-on experience with core theory and prepares graduates to become well-rounded, creative, problem-solving professionals. As a Laureate International Universities Center of Excellence in Art, Architecture and Design, the university boasts an international student body and opportunities to study abroad, encouraging students to develop a global perspective on the arts. Santa Fe University of Art and Design is accredited by The Higher Learning Commission and a member of the North Central Association, http://www.ncahlc.org.