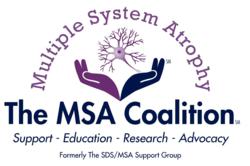 The establishment of a dedicated program for receiving, reviewing and awarding multiple system atrophy research grants is a critically important milestone for the MSA community
Raleigh, NC (PRWEB) May 20, 2013
The Multiple System Atrophy Coalition (formerly the SDS/MSA Support Group) announced today the launch of its new Multiple System Atrophy (MSA) Research Grant Program. Over the past few years, The MSA Coalition's grass roots fundraising has grown and enabled the 501(c)3 organization to expand its mission beyond patient/caregiver support to now include education, advocacy and research funding initiatives. At present, 75% of all donations received by The Coalition go directly into a dedicated MSA Research Fund, which now exceeds $100,000.
To ensure focused and meaningful use of the MSA Research Fund monies, The MSA Coalition has established a world-class Scientific Advisory Board (SAB) and Advocate Research Committee (ARC) to review all research proposals received and to recommend grant levels. The mission of the MSA Coalition Research Grant program is to help identify and fund the most promising research leading to a cure or discovery of effective therapies to slow, halt, or reverse its progression.
"The establishment of a dedicated program for receiving, reviewing and awarding multiple system atrophy research grants is a critically important milestone for the MSA community" stated Don Crouse, Board of Directors and volunteer for The MSA Coalition. "MSA is a rare, disabling and fatal disorder with few effective treatments and no known cure. The average life expectancy after diagnosis is 5-9 years so today's patients can't wait indefinitely for research to be completed. We are hoping the launch of our MSA Research Grant Program will bring increased interest from scientists to study multiple system atrophy and from the MSA community and others to increase donations for MSA research. We are not naïve. We recognize that our current available funds are the tip of the iceberg in terms of funding needed to find a cure. But it is a start."
The newly established Scientific Advisory Board is made up of physicians with a dedication to multiple system atrophy research and patient care. Our SAB member, while not a requirement, are all active in medical association dedicated to rare autonomic nervous system disorders, such as the American Autonomic Society and the European Federation of Autonomic Nervous System Societies.
At present, there are five members serving on the SAB:

Tom Chelimsky, MD; Professor and Chair, Neurology; Medical College of Wisconsin
Phillip Low, MD; Professor of Neurology: Mayo Clinic
David Robertson, MD; Professor of Neurology, Vanderbilt University Medical Center
Steven Vernino, MD, PhD; Professor of Neurology & Neurotherapeutics; UT Southwestern Medical Center
Professor Gregor Wenning, MD, PhD, MSC; Division of Neurobiology, University of Innsbruck
The SAB will meet annually to review MSA research proposals received through The MSA Coalition Research Grant program and determine which proposals will be awarded grants. The SAB will then work with the Advocate Research Committee with members representing The MSA Coalition and other partner organizations to finalize funding for these important research proposals. The MSA Coalition believes by combining the scientific acumen of the world-class scientists on The MSA Coalition SAB with the passion of patient advocates, it will best achieve the important and urgent goal of advancing treatments for people suffering from multiple system atrophy and finding a cure.
The MSA Coalition now has an entire section on its website dedicated to the Multiple System Atrophy Research Grant program, including an easy to use online MSA Research Grant Application form. The MSA Research Grant program is open to qualified researchers from around the world. A stated objective of the program is to fund the most promising research leading to the discovery of a cure for MSA, regardless of geographic location. The first MSA Research Grants will be awarded by the end of 2013 and will be announced publicly.
Donations to support multiple system atrophy research and other important MSA related initiatives can be made online at http://www.MultipleSystemAtrophy.org or by check at:
The Multiple System atrophy Coalition
8311 Brier Creek Parkway
Suite 105-434
Raleigh, NC 27617
People interested in fundraising for multiple system atrophy can use The Multiple System Atrophy Coalition fundraising tools on First Giving or Crowd Rise. Both sites make it easy to set up various types of fundraisers and to collect donations online. All donations to The MSA Coalition are 100% tax-deductible.
About Multiple System Atrophy
Multiple system atrophy (previously known as Shy-Drager Syndrome) is a rare and fatal disorder with less than 15,000 Americans diagnosed and 35,000 undiagnosed at any given time. According to the National Institutes of Health, "Multiple system atrophy is a progressive neurodegenerative disorder characterized by symptoms of autonomic nervous system failure such as fainting spells and bladder control problems (neurogenic orthostatic hypotension), combined with motor control symptoms such as tremor, rigidity, and loss of muscle coordination. MSA affects both men and women primarily in their 50s. MSA tends to advance rapidly over the course of nine to 10 years, with progressive loss of motor skills, eventual confinement to bed, and death. There is no remission from the disease. There is currently no cure is available."
About The Multiple System Atrophy CoalitionSM
The Multiple System Atrophy Coalition is a positive beacon of hope standing up to a little known, rare, insidious disorder. Made up of dedicated volunteers, The MSA Coalition has a primary purpose of encouraging and funding research to find a cure. The Coalition also provides much needed patient and caregiver support, educational resources, and advocacy to create awareness and to fight for issues important to the MSA community. At present, 75% of all donations go directly into a dedicated Multiple System Atrophy Research Fund which now supports a research grant program. The MSA Coalition also has a world-class scientific advisory board (SAB) to review and award research grants to the most promising MSA research proposals.
For more information or to donate to The MSA Coalition, please visit: http://www.MultipleSystemAtrophy.org