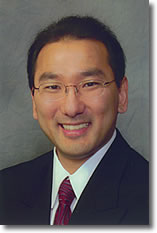 Fremont, CA (PRWEB) May 17, 2013
Dr. Colin Yoshida joins the few dental professionals in the country that offer patients with gum disease the option of receiving the Laser Assisted New Attachment Procedure (LANAP). The laser gum surgery is far less invasive and painful than scalpel treatment methods. Research shows that gum disease heightens an individual's risk of many other serious health conditions, including strokes or even heart attacks. The high levels of bacteria found in the infected gum pockets can infitrate other tissue in the body and lead to further problems. Because of this health threat, Dr. Yoshida and the dental community at large take the treatment of periodontal disease very seriously.
Gum disease is a condition where the gums become severely infected as it progresses. This starts out as simple plaque that builds up on teeth. Over time, the plaque becomes a calculus or tartar and bacteria forms and attacks the surrounding gum areas. Patients with periodontal disease will notice symptoms such as red or inflamed and possibly even tender gums. There may be bleeding in the gum area when brushing or flossing. Standard surgical methods have been generally effective in treating this situation, but they are also highly invasive and can be very painful and result in unpleasant recovery periods.
Laser gum surgery is minimally invasive and requires only a local anesthetic (vs. a general anesthetic, which is required for scalpel surgeries). Typically, LANAP can be completed within only two office visits and requires no special prework. A small laser is inserted between the teeth and gums to identify and remove the affected gum tissue only, leaving all healthy gum tissue completely intact. This is a significant change from traditional methods, which often result in the removal of healthy gum tissue as well. Another benefit to patients is the ability to resume all normal activities virtually immediately and the lack of needing any post-operative pain medication. As overall gum health is achieved, a patient's risk for stroke or other medical conditions is greatly reduced. To learn more about the connections between gum disease and stroke, visit http://www.fremontdentistry.com.
About The Doctor
Fremont Dentistry is a general practice offering personalized dental care for patients in Fremont, CA. Dr. Colin Yoshida graduated from University of the Pacific School of Dentistry and is part of one percent of dental professionals providing the only FDA cleared laser procedure for gum disease treatment. To learn more about Fremont Dentistry and their dental services, visit their website at http://www.fremontdentistry.com and call (510) 648-3184.