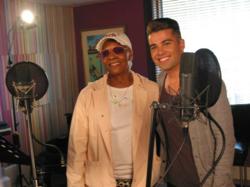 Dionne Warwick: "...it seems reasonable for us all to aim to achieve poll position in music charts around the world. If we can think it, we can do it, but only with your help. The key word here is we".
(PRWEB) May 20, 2013
As Prime Minister David Cameron and the UK Government take centre stage to host this year's G8 in Northern Ireland, international trade and the global economy will be high on the agenda. If music is the ultimate global unifier, what better time than now to launch a charity Single with a difference that gets to the very heart of the issues surrounding Hunger and Poverty and how to end it.
This anthemic song, a duet between Dionne Warwick and Joe McElderry, encourages the whole world to sing with one voice to end hunger once and for all, for every individual and within every community worldwide.
According to UN FAO Goodwill Ambassador and long-term Hunger campaigner, Dionne Warwick:
"Given the importance of this challenge and the fact that in 2013 there are still two million children dying from malnutrition every year in conditions of extreme poverty, it seems reasonable for us all to aim to achieve poll position in music charts around the world. If we can think it, we can do it, but only with your help. The key word here is we".
This unique single, entitled 'One World One Song', is truly a composition that comes straight from the campaigning heart of ending hunger. The single's concept was created by The Hunger Project UK's Country Director, Tim Holder and his team including legendary songwriter Tony Hatch (who wrote the melody) and The Hunger Project UK Patron, Rod Natkiel.
'One World One Song' is a duet between UN FAO Goodwill Ambassador and global singing legend, Dionne Warwick, together with UK pop icon, Joe McElderry. The inspiring voices of London Community Gospel Choir, the young musicians of Southbank Sinfonia and the 60-strong World Hunger Day Youth Choir represent diversity across all ages and backgrounds.
'OWOS', as the single is more affectionately known, has a digital global launch on 27th May 2013 but most importantly can be pre-ordered from 17th May. The single's production team includes award-winning producer, Toby Alington and Orchestral Director for The 2012 Olympic Closing Ceremony, Steve Sidwell.
According to Tim Holder, UK Country Director for The Hunger Project UK:
"The launch of the OWOS single is just the beginning of this amazing journey. May 28th is the third anniversary of World Hunger Day. We are delighted to have the opportunity to join together this year with almost 200 NGO and faith group partners as part of the 'Enough Food for Everyone IF' Campaign. In the words of the OWOS Song and I quote…"A single voice is weak, just a whisper in the dark, but millions joined together will be heard. Let's be heard!'...
"The Hunger Project UK calls upon the UK Government and all members of the G8, not only to ensure that they meet their own financial pledges to end Hunger but also that Aid Distribution increasingly empowers communities at grass-roots level. By doing so, these communities have the opportunity to gain skills and increase their income and food production, both vital ingredients in their journey to building their own sustainable future.
"The direct consequence of empowering those suffering from Chronic Persistent Hunger is not only a moral obligation but it makes absolute sense to the financial as well as spiritual well-being of the G8 nations (and indeed every nation). The introduction of basic skills and knowledge (that the developed world has taken for granted for decades) is one of the main steps required. Our ultimate goal will also require a shift of mindset, sound leadership and a genuine move towards gender as well as economic equality and must continue to create sustainable solutions as a priority," added Holder.
Sally Copley, Chair of the IF Campaign, said:-
"Every 15 seconds a child dies of hunger. There is enough food for everyone, but not everyone has enough food. IF we act now, we can help begin to end this silent scandal.
"In June, the world's most powerful leaders come together to decide the fate of millions at the G8 Summit. The decisions they make could change the future for millions of hard-working people who face a daily struggle to put food on the table. We need to make a big enough noise to get them to fix the broken food system. Buying this single ahead of the G8 is a fantastic way to send a message to leaders act to end hunger."
The launch of OWOS will be supported by a series of intimate live London concerts and every Artist has been invited to share their own interpretation of the Song. These live up-close-and-personal events, entitled World Hunger Day Unplugged, will be hosted in Central London between 26th and 28th May 2013. Artists include Joe McElderry, Andrew Roachford, Anthony Strong, Barb Jungr, Jumoké Fashola, London Community Gospel Choir, Mari Wilson, Omar, Randolph Matthews, Simon Wallace and Tammy Weis. World Hunger Day 2013 artists are 'Singing for Hunger' and all parties actively urge you to do the same with 'You Sing' backing track.
For more information about 'One World One Song', World Hunger Day Unplugged and the launch of the charity single please visit http://www.worldhungerday.org
Follow us @OneWorldOneSong on Twitter and @WorldHungerDay
Like our Facebook page TheHungerProjectUK
http://www.youtube.com/user/WorldHungerDay
Text LOVE 28 £3/£5 or £10 to 70070 to create opportunities for everyone to end their own hunger and poverty. The Hunger Project registered charity number 326688.
-ends-
For media information, interview opportunities, song lyrics, biographies and images, please contact:-
Miranda Leslau miranda leslau pr 07912 644993 miranda(at)mirandaleslau(dot)com
Editor's Notes:-
About Enough Food for Everyone IF
Enough Food for Everyone IF is a coalition of more than 180 organisations which have joined together to campaign for action by the G8 on the issue of global hunger. The last time we worked together at this scale was for Make Poverty History. Now that the G8 group of world leaders are returning to the UK, we are demanding they take action on hunger. 2013 won't be the end of hunger, but it could be the beginning of the end. Join us at http://www.enoughfoodif.org
The Hunger Project – An Overview

The Hunger Project, founded back in 1977, is a global, non-profit, strategic organisation committed to the sustainable end of world Hunger
The Hunger Project and its affiliated Partner Countries have a worldwide staff of 378 people and work with over 392,000 volunteer leaders on the ground – all of whom are suffering from the effects of Chronic Persistent Hunger on a daily basis. Our Global Office is located in New York, NYC
870 million people the world over do not have enough to eat — more than the populations of USA and the European Union combined (Source: State of Food Security in the World 2012)
In Africa, South Asia and Latin America, The Hunger Project seeks to end Hunger and Poverty by empowering people to lead lives of self-reliance, meet their own basic needs and build better futures for their children
The Hunger Project operates in 11 Programme Countries, helping over 8,700 partner communities end their own Hunger in Bangladesh, Benin, Burkina Faso, Ethiopia, Ghana, India, Malawi, Mexico, Mozambique, Senegal and Uganda. In Peru we partner with a local organisation, Chirapaq
To date, The Hunger Project's work empowering communities to end their own Hunger has directly impacted upon 22 million people – with a total annual budget of just £10 million sterling
Over the last two years, The Hunger Project UK, with a team of just two full-time members of staff, together with an extended project team and volunteers, has raised hundreds of thousands of pounds for partner communities throughout the World from show-stopping musical events hosted by the legendary Dionne Warwick as well as community and Challenge/Sporting events
In the UK, we fundraise for our programmes in the developing world, together with increasing the profile of the organisation and raising the issues of Hunger, Poverty and Gender Equality
For more information about The Hunger Project UK please visit http://www.hungerproject.org.uk or http://www.worldhungerday.org
'One World One Song'
The single 'One World One Song', featuring Dionne Warwick, Joe McElderry & Friends, will be available for pre-order from the 17th May 2013 globally, as a digital release. A backing track will also be available to buy/download as well as the single itself for both communities and individuals alike. The Hunger Project UK is encouraging everyone to sing and share the meaning of 'One World One Song' as 'You Sing We Sing'. Over the coming days all social media channels will be live so that you can share and celebrate your own version of 'One World One Song' via youtube, Twitter, Facebook etc.
Each artist will be invited to sing their own interpretation of the 'One World One Song' single during their Unplugged sets between 26th and 28th May 2013 inclusive, as well as their greatest songs old and new. 'One World One Song' better explains the determination of those endeavouring to end their own Poverty and Hunger through entrepreneurship and help from The Hunger Project UK.