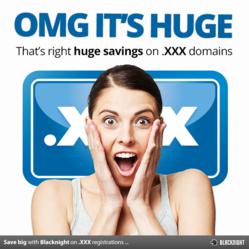 Blacknight aims to offer the most cutting edge services to our clients and the work that .XXX has done in conjunction with the International Foundation for Online Responsibility (IFFOR) in terms of online safety is revolutionary
Carlow, Ireland (PRWEB) May 20, 2013
Ireland's leading domain registrar and hosting company, Blacknight, is offering a big discount on .XXX domain names.
Throughout the month of May, Blacknight (http://www.blacknight.com/) is offering .XXX domains for €8.95 (ex-VAT) per year. Also – unlike most of Blacknight's domain offers – this discount price applies from 1 to 10 year registrations, so a .xxx domain name may be registered for 10 years for the price it would normally cost for one year.
.XXX caters exclusively to the  "adult" entertainment industry and related interests. As .XXX is among the most recognisable domain extensions there is no confusion as to what you might encounter when you visit a website with that extension.  Anyone who "self declares" as being part of the "adult community" may register a .xxx domain name.
Blacknight is among a small group of registrars who carry .XXX domains. Michele Neylon, CEO of Blacknight states: "We'll be offering .XXX domains for the same price as .com throughout the month of May. Blacknight aims to offer the most cutting edge services to our clients and the work that .XXX has done in conjunction with the International Foundation for Online Responsibility (IFFOR) in terms of online safety is revolutionary."
.XXX is considered a "sponsored" TLD or sTLD. The sponsored community of .XXX consists of individuals, companies and organisations that provide Adult Entertainment intended for consenting adults and those who provide talent, products or services to the adult industry and have voluntarily determined that a system of self-identification would be beneficial.
Neylon continues: "We think .XXX is very cool and are quite delighted to carry this promotion to make .XXX domains more affordable to our customers."
.XXX domains will remain on sale for the price of €8.95 (ex-VAT) per year of registration until May 31, 2012.
To learn more about about the .XXX registry rules and how they validate a registrant before putting a .xxx domain name live please visit: http://www.icmregistry.com/about/sponsored-community/
About Blacknight:
Blacknight are an Irish based, ICANN accredited domain registrar and hosting company. Recipients of several awards for their revolutionary use of social media, Blacknight are one of Europe's most cutting edge Internet companies. Blacknight constantly seek to lead the way by introducing innovative solutions for its client base and provide dedicated servers and colocation as well as a comprehensive range of Microsoft Windows and Linux based hosting plans and domain name registration services to business globally.