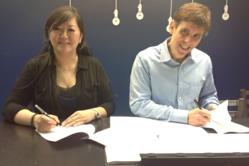 With the investment from Novotorium and access to the incubator's services and resources, we will have the opportunity to significantly accelerate our growth.
Langhorne, PA (PRWEB) May 20, 2013
Business incubator Novotorium has made a financial investment in interactive design studio Dunnamic, a startup business with expertise in medical animation, and is also providing access to Novotorium's business incubation services and resources, according to Stuart Segal, managing director of Novotorium.
"Dunnamic produces high quality interactive media," said Segal. "The work the company is doing for clients in the medical field is tremendous. We're impressed with the compelling new products Dunnamic is developing for the healthcare market."
Dunnamic was founded in 2010 by Meaghan Dunn, an interactive designer with degrees in both science and art. The business, based in Langhorne, Pennsylvania, has shown steady growth over three years.
"We create products ranging from television commercials, to industrial animations, to video games, to cartoons, to educational animations," Dunn said. "We've been making tremendous strides in developing our own products, as well. With the investment from Novotorium and access to the incubator's services and resources, we will have the opportunity to significantly accelerate our growth."
"We are in the process of developing products to help meet patient education, informed consent and ongoing healthcare service needs of physicians, healthcare facilities and patients," Dunn said. "We're looking forward to working with Novotorium to bring our new products to market."
For more information about Dunnamic, please see the company's website http://www.Dunnamic.com.
As a business incubator, Novotorium invests in businesses and provides a range of services such as strategic guidance, advice from subject matter experts among Novotorium's partners and business planning services. Novotorium also offers access to tactical business resources such as a call center, a data center, technology development and marketing services.
Novotorium offers selected startups a sliding scale of initial investment amounts between $5,000 and $250,000, with Novotorium's equity position in startups based on business fundamentals rather than preset investment amounts and equity targets. In addition, Novotorium utilizes a variety of investment structures including preferred shares, common shares and convertible debt.
In April, Novotorium announced an investment in AboutOne, a leading online and mobile family organizing platform. AboutOne's digital family filing cabinet saves customers time by pulling information from other apps they already use, including calendar, email, socials sites like Facebook, and document management apps like Dropbox. In addition to health documents, AboutOne's highly integrated family management system includes family memories and education, career, home, vehicle and household inventory records in the form of notes, documents, photos, and videos that you can organize and privately share.
Novotorium will be announcing additional investments and incubation relationships in startups as transactions close. Startups interested in being considered for investments by Novotorium and incubation services can see more information and apply at http://www.Novotorium.com/apply.
About Novotorium
Novotorium provides a full range of guidance, support and services for health, wellness and nutrition startups, helping entrepreneurs grow their businesses from Concept through Sustainable Operations, and every stage in between. Novotorium is conveniently located in Langhorne, Bucks County, Pennsylvania, in the Philadelphia suburbs with easy access to New York, New Jersey and the entire Philadelphia area. Novotorium accepts applications from health, wellness and nutrition startups on a rolling basis.