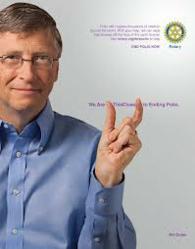 "For 50 Years, Rotary International has been working on this project and we went from 500,000 new cases a year in over 100 countries to less than 100 in 3 countries" said Rick Barns, District Governor for Rotary

Orlando, Florida (PRWEB) May 21, 2013
Rotary International, the world's largest service organization, has gained additional notoriety lately for their work in conjunction with Bill and Malinda Gates Foundation in making strides towards the elimination and eradication of polio worldwide. "For 50 Years, Rotary International has been working on this project and we went from 500,000 new cases a year in over 100 countries to less than 100 in 3 countries" said Rick Barns, District Governor for Rotary
Theodora Uniken Venema, President of the Orlando Rotary Club which will sponsor the upcoming Redfish Tournament for Rotary International said, "Rotary has helped eliminate polio in all but three countries; our group is doing our part to end it in India now." Theodora was just awarded realtor of the year and is well known for her philanthropic efforts worldwide.
Barter Rewards is offering help with setting up and marketing of this worthy event. Tate Carson, CEO of Barter Rewards said, "Rotary has done so much around the world to finally eliminate this cruel disease and the end is in sight. It is a worthy cause and all businesses should help Rotary reach their goals because this disease can be beaten, and has been beaten in all but three countries." Carson continued, "Over the last 50 years, Rotary International has done more than governments to finally eradicate polio worldwide; we will help them however we can."
Matt Valliere, President of St. Augustine Backwater Tour Company is coordinating the event with the captains involved. "This is a cause I can get behind. Rotary International has done great things and when Tom Reich asked me to coordinate, I jumped into action."
Thomas R. Reich, Marketing Director of BizCentral USA who is a Rotarian himself and Treasurer of the Orlando Club said his CEO, Efrain Rodriguez, was donating a major prize to the individual Rotary club with the most participation in this worthy project. "The package will help the winning club with corporate sponsorships and other essential nonprofit services." Reich's club was just granted a major promotions award within the Rotary International family.
Robert Washick, Rotary Orlando's Secretary said, "This event is unique, it is for a fun sport and at the same time it is for a cause people can get behind and really see results. Many of my friends outside of Rotary are fling down too enjoy a day of Florida backwater fishing."
The date has not been announced yet, but it will be in the fall and boats will leave from the St. Augustine area. The event will include visitors from around the world, Rotary members on their way to an International Rotary convention happening on the west coast this fall.
For more information on the event call Theodora Uniken Venema (407) 557-5446. For more information on BizCentral USA and how they are helping Rotary International call Thomas R. Reich 407 857 9002 ex 514. For more information on how Barter Rewards international is helping Rotary eradicate Polio call 904.404.4945 for information and reservations call Backwater Tour Company 904-509-1662