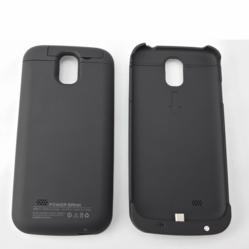 Best battery case for Galaxy S4
Las Vegas, USA (PRWEB) May 23, 2013
On May 21, 2013, Esorun will be releasing the first of the two types of stylish battery cases. These two cases can be used with the Galaxy S4. The two types of battery cases were displayed earlier this year. They will be displayed during the CTIA.
The main purpose of the battery case for S4 is to boost the battery life of the gadget. The battery case is unique, fashionable and has a neat sliding design that users enjoy.
One of the cases will have a cover and one of them will not – this gives the buyer the choice to purchase one without a cover, if they wish.
They will be available in two colors – black and white. Putting the gadget into the case is simple to do. Simply pull the top to extend the space and put the S4 into the case, then unfold the top shell.
Other features include:

Battery capacity: 3200 mAh
Cutout window for the speaker
Cutout window for the camera and flash light
Size: 158x77x15.5mm
Material: ABS + PC
Output: 5V, 500mAh
Weight 115g
Cell type: Li-Polymer
Charging: 5 hours
Esorun has also told the public when their wireless receiver for the S4 will be released. The wireless receiver for the S4 will be released on May 25, 2013.
About Esorun: The Company Behind the Battery Cases
Esorun is a popular technology company that is located in Shenzhen, China. They specialize in numerous products, including the power banks, key ring chargers, wireless hard drives, battery cases and more.
About the Battery Cases
The battery cases will be displayed during the CTIA, which is currently going on. There are two battery cases and they are both available in black and white. They both have a unique sliding design, which users will enjoy.