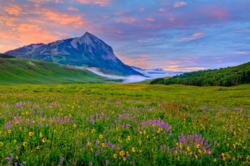 More than 200 events showcase the lush landscapes and focus on activities that include wildflowers such as hikes and walks, jeep tours, garden tours, and workshops in photography, art, gardening, medicinals and botany.
Crested Butte, Colorado (PRWEB) May 21, 2013
Designated the "Wildflower Capital of Colorado" by the Colorado State Legislature in 1990, Crested Butte will host the 27th annual Wildflower Festival July 8 – 14. Visitors, photographers and artists from across the United States and abroad journey to Crested Butte to witness nature's explosion of color during the festival and the weeks surrounding and well into the month of August. Crested Butte Wildflower Festival also will be offering activities through early September this year.
During Crested Butte Wildflower Festival, more than 200 events will showcase the lush landscapes and focus on activities that include wildflowers such as hikes and walks, jeep tours, garden tours, and workshops in photography, art, gardening, medicinals and botany. It's also possible to attend Crested Butte Wine & Food Festival, Crested Butte Music Festival and Gunnison Cattlemen's Days happening the same week.
Highlights for 2013 Festival
Daily hikes and walks for all ranges of strength, fitness and wildflower know-how are some of the most popular happenings on the festival's schedule. Go full-day, full-strength, or, if still adjusting to the altitude, go half-day at a more leisurely pace. Here's a sampling of what will be offered:

Hike through the Maroon Bells Wilderness to Aspen, an 11-mile trip through Colorado's most epic wildflower meadows.
Several private landowners are allowing the festival to lead hikes on their properties. See wildflowers in places that most people never get to see.
Hike to the old mining town of Crystal, home of the photogenic Crystal Mill.
Classic Crested Butte hikes will take guests to Scarp Ridge, Cloud City, Schofield Pass, Snodgrass Mountain and the vast West Maroon Pass area.
For those who want to mix it up or who want to enjoy the flowers, learn something new and socialize without a healthy dose of exercise, there are options galore.
More than 20 photography classes will be offered to help sharpen skills for shooting wildflowers up-close and in landscapes. New this year is bird photography, where students learn how to capture hummingbirds, butterflies and other pollinators with cameras.
Experience a Rocky Mountain sunset in style with "Hors d'oeuvres in the Evening Light" in the Washington Gulch area.
Crested Butte Wildflower Festival and Crested Butte Music Festival are co-hosting a Wildflower Happy Hour and American String Quartet combo, where cocktails and appetizers will be served, Gregg Morin-the 2013 Poster Artist will sign posters, and chamber music by Chopin, Shostakovich and Dvorak will be presented.
Gardening classes provide tips on how to create a more natural, native garden that will attract the desired pollinators.
Birds and butterflies go hand-in-hand with wildflowers. Learn how to identify the area's unique birds from their song and see stunning butterflies feasting on gorgeous wildflowers.
Artists may choose from a rich palette of offerings including plein air painting, watercolor, field sketching, batik, ceramics, and calligraphy. Several of the classes are being offered by Art Studio of the Center for the Arts, which also has pastel, canvas and cabernet, and botanical illustration workshops planned for the week.
Learn to apply wildflower aromatherapy for good health and to make flower-infused teas, vinegars, candles, and botanical skin and hair conditioners/remedies.
Cooking classes that take inspiration from flowers and nature demonstrate how to create delicious, healthy and fun summer appetizers and meals.
Van and 4 x 4 tours traverse into the backcountry to see the area's wildflower splendor.
Relax and unwind with a yoga class in a field of wildflowers or treat tired hiking muscles to a Pilates mat class.
Shop at the Blossom Boutique for many unique wildflower-themed gifts, clothing, books and festival posters from 2013 and earlier years.
Schedule & Registration
For more information, to register for events and to download a bloom locator brochure, call (970) 349-2571 or visit http://www.crestedbuttewildflowerfestival.com. The Festival will be headquartered at Crested Butte Community School, 818 Red Lady Ave., from July 8 – 14.
Additional Options Before & After the Festival
For those who cannot attend the July festival, Crested Butte Wildflower Festival will be offering a variety of hikes in June, July, and August. Friday Adventure Hikes, Saturday Wildflower Walks, and Wildflowers of Crested Butte Mountain Resort will be offered starting mid-June. The hike from Crested Butte to Aspen will be offered twice in late July and twice in early and mid-August.
Also, every Sunday, Black Canyon of the Gunnison National Park hosts free wildflower walks while the flowers are in bloom, usually from June until mid- or late July. These casual walks start at 1 p.m., last approximately one hour and are for all ages. Meet at the South Rim Visitor Center. For more information, call (970) 249-1914, ext. 423 or go to http://www.nps.gov/blca.
Special Deals/Packages
Crested Butte Lodging and Property Management, West Wall Lodge, Nordic Inn and Inn at Crested Butte are offering lodging discounts ranging from 15 to 30 percent off for Wildflower Festival participants. The percent off depends on the length and timing of stay. For all the details, visit https://www.crestedbuttewildflowerfestival.com/visitor-info/lodging-discounts/.
Let the experts at Crested Butte Wildflower Festival create packaged hiking trips, art retreats and historic garden tours for groups of six or more that include all guiding/art supplies, breakfast and lunch, lodging and trailhead transportation. These packages can be booked now for dates starting July 15 through early September.
One of the best wildflower hikes in the state, the West Maroon Pass route from Aspen to Crested Butte, is being combined with a weekend of gypsy jazz from Aug. 9 – 11. The Aspen to Crested Butte Hike/Gypsy Jazz In Paradise package is being offered by Crested Butte Wildflower Festival and Crested Butte Music Festival. The guided hike, a weekend pass to Gypsy Jazz In Paradise, lodging at the Nordic Inn in Mt. Crested Butte, transportation from the trailhead in Crested Butte to Nordic Inn, and transportation back to Aspen is included. Go to http://www.crestedbuttewildflowerfestival.com and http://www.crestedbuttemusicfestival.com for details.
Or customize hiking dates with The Ruby of Crested Butte's Hike & Hotel - Crested Butte to Aspen and Back Again Hike package. Start the adventure by relaxing at The Ruby for a two-night stay. On the third day, grab an early breakfast and a packed lunch, board a shuttle for a ride to the West Maroon Pass trailhead. Hike on your own on this well-traveled trail and board the bus into Aspen for a two-night stay at the Annabelle Inn. Hike back to Crested Butte on West Maroon or take the slightly longer East Maroon route and board a shuttle for transportation back to The Ruby where a massage, dinner reservations and a two-night stay await. If hiking one-way is more appealing, a shuttle will provide transportation back to Crested Butte. The price starts at $1075 per person. This package is available from June to October, depending on trail conditions. Visit http://www.therubyofcrestedbutte.com or call (800) 390-1338.
Vacation Packages & Visitor Information
To save on flights, hotel rooms, vacation packages, car rentals and more, call the Gunnison-Crested Butte Tourism Association reservation hotline at (888) 559-0841 or go to http://book.GunnisonCrestedButte.com. For destination information, call (800) 814-8893 or visit http://www.GunnisonCrestedButte.com.