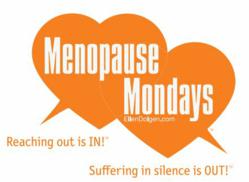 We're glad BlowMeCool Inc. can donate our mini-fans as they align with Ellen's mission to show women how there are resources available that can help them overcome menopausal symptoms
Ottawa, Canada (PRWEB) May 22, 2013
BlowMeCool Inc., which manufactures mini-fans for women in need of discreet hot flash relief, is pleased to donate free fans to all the attendees at the first ever Menopause Mondays Live Event.
Menopause Mondays™ Live are free social events that combine a cocktail party atmosphere with an environment to support women's health and wellness issues. Menopause Mondays™ Live are hosted by Ellen Dolgen, menopause awareness expert, author and speaker, and they focus on perimenopause, menopause and post-menopause.
The first event is Monday, June 3, 5-7pm PST at Burlap restaurant in Del Mar, California, near San Diego. Women will enjoy a complimentary evening of health information from Ellen, cocktails, hors d'oeuvres, and each attendee will leave home with a free BlowMeCool mini-fan.
"Through her efforts, Ellen is providing a forum for women to discuss and understand peri-menopause and menopause in an open and fun way," says Brian Burge, Founder of BlowMeCool Inc. "We're glad BlowMeCool Inc. can donate our mini-fans as they align with Ellen's mission to show women how there are resources available that can help them overcome menopausal symptoms, hot flashes and night sweats included."
"My mission is to help women stop feeling like they have to suffer through peri-menopause and menopause in silence," says Ellen Dolgen, who plans to host more events across the United States. "The parties serve as a welcoming place to discuss our health issues in a fun, loving atmosphere where the sisterhood helps the sisterhood! My motto is: Reaching out is IN! Suffering in Silence is OUT!"
Women (and men!) who wish to attend, must RSVP by Monday, May 27, 2013 through Eventbrite: http://menopausemondays.eventbrite.com/
ABOUT:
BlowMeCool Inc., is a 15 month old company based in Ottawa, Canada which manufactures an innovative new mini-fan designed to operate while hidden in the palm of the hand. Inspired by his wife, Brian has thoughtfully designed a unique mini-fan for women in the peri-menopause and menopause stages of life who seek a more discreet, subtle way of cooling during annoying hot flashes. For more information about BlowMeCool, visit: http://www.BlowMeCool.com.
Ellen Dolgen is an outspoken woman's health and wellness advocate, menopause awareness expert, author and speaker. She produces and facilitates the award winning health blog ellendolgen.com, as well as hosts Menopause Mondays PartiesTM for organizations across the country which includes Menopause Mondays Live Events and Menopause Mondays Google+ Hangouts. Ellen has appeared on the "Rachael Ray Show," "The Doctors," Oprah Radio, Playboy Radio, NPR's "Tell Me More," Doctor Radio, and contributes to Huffington Post 50, which targets 116 million Americans over the age of 50. For more information about Ellen, visit: http://www.ellendolgen.com.
Burlap Del Mar is located at 12995 El Camino Real #21 Del Mar, CA 92130 in the Del Mar Highlands. Described in Executive Chef Brian Malarkey's playful tone as Asian Cowboy cuisine where the 'West Eats Meat.' For more information about Burlap Del Mar visit:http://www.burlapeats.com.