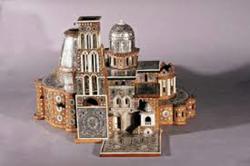 We need to know more about our history to get a better sense about belonging, a more defined identity.
(PRWEB) May 23, 2013
The Franciscan order of Friars Minor, the Franciscans who are the Custodians of the Holy Land have been working for many years to lay the groundwork for a museum right in the heart of the Old City that will display the roots and substance of Christianity and it's holy places.
Fr. Pierbattista Pizzaballa, OFM, Custos of the Holy Land is extremely pleased and excited about this new museum. He states that Christians have always been here in the Holy Land and are still here today but their numbers are dwindling and the Christian presence needs to be shown and better known.
He explains, "There is no other place in the world quite like Jerusalem, where all Christian religious confessions are present. Beyond the evident difficulty of relationships, the Holy Land has a fascination that is unique." It is a land that is unlike any other because the three main monotheistic religions have their roots here. It is therefore important for the whole world to know of the history of the Christian presence in the Holy Land and to know the role that they play in sending the message of peace throughout the world.
The plans are to have the museum divided into three sections: Archeological, Multimedia, and Historical and they will be housed partly in the existing Convent of the Flagellation and the Convent of San Salvatore.
Fr. Pizzaballa is the Chairman of the Board of Trustees for the Franciscan Foundation for the Holy Land. The museum will tie nicely into the mission of the Foundation because as the Foundation is working to provide University Scholarships, housing and jobs to the Palestinian Christians, the museum will help give them a better sense of who they are.
Fr. Pizzaballa explains, "In this land, we Christians need not only work and bread but we all need a meaning. We need to know more about our history to get a better sense about belonging, a more defined identity. This helps us to live the present reality more serenely."
Fr. Pizzaballa also shares that by knowing our history, we will know the great obstacles that generations past have endured and yet still survived. He concludes, "It gives us strength, the backbone to build, to invest in the future. Our history will show that we have done it in the past, we therefore have the ability to do so again."
Many of the treasures that will be displayed at the museum are now available at the Palace of Versailles until July 14, 2013.