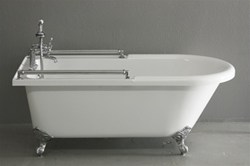 It's easy to get out of, but still maintains the charm and great looks of a vintage clawfoot tub
(PRWEB) May 29, 2013
With more than a decade of experience in bathroom décor, Baths of Distinction is unveiling its new innovative Classic Towel Bar clawfoot tub. Although the new tub is part of the company's vintage-inspired Hotel Collection, it is the first of its kind worldwide. The idea for the Classic Towel Bar tub was sparked by older customers with limited mobility who wanted a clawfoot tub. This presented a dilemma since most clawfoot tubs are higher and deeper than standard built-in tubs, which makes them more difficult to climb out of.
The experts at Baths of Distinction responded by redesigning their classic style clawfoot tubs to make them wider at the base for more bathing room. In addition, they redesigned the tub roll top deck to accommodate grab bars on either side. As Baths of Distinction owner Bill Hamilton explains, "Regular grab bars look very clinical, so we decided to make them look cool and match the faucets. "
In addition to offering excellent leg room, the Classic Towel Bar tub also provides a slip-resistant floor making it perfect for most seniors and many people with mobility concerns. "So what we have come up with is an easy access clawfoot tub that is easy to get out of, but still maintains the charm and great looks of a vintage clawfoot tub," says Hamilton.
In all, the Hotel Collection Classic Towel Bar comes with Victoriana faucet, Victorian drain with lift-off stopper, supply lines, detachable cast iron feet and towel bars. Baths of Distinction also offers the options of air jetting, heated air jetting and the choice of various tub exterior colors.
About Baths of Distinction:
Baths of Distinction offers a full-range of high-quality clawfoot and pedestal bathtubs in custom finishes. It is an industry authority on vintage-inspired tubs and fixtures with experts who can bring your vision to life, whether it includes modern charm or Victorian elegance. Baths of Distinction is based in Florida, but ships its tubs around the world. To discover what Baths of Distinction can do for you, visit BathsOfDistinction.com.