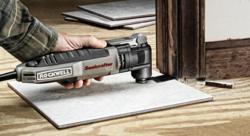 (PRWEB) May 22, 2013
Sanding, scraping, cutting, rasping, grinding or polishing are tasks the Sonicrafter X2 handles efficiently while saving gobs of time.
Power scrape old caulk from around the bathtub, sinks, backsplashes or windows. Grind grout from between floor and wall tiles with precision and without scratching tiles. Remove blistered paint or take rust to bare metal for priming, plunge cut drywall for an outlet box or cut trim to accommodate a new raised floor.
Dad is going to love this tool because unlike other oscillating tools, Rockwell's new Universal Fit system accepts all other branded accessories. Plus, Universal Fit works hand-in-hand with Rockwell's HyperlockTM feature that provides one ton of clamping force to prevent slippage of blades and other accessories. In addition, Sonicrafter's Universal Fit accessories are designed to fit all competitors' oscillating tools.
The Sonicrafter X2 and accessories come in a hard shell tool case. The compact, waterproof case features a separate bulk storage area plus two storage bins to house accessories.
The Rockwell Sonicrafter X2 (RK5140K, $149.99), multi-tool is available at http://www.rockwelltools.com and other websites, including Menards and Lowe's, and regional hardware and home centers nationwide.
Dad's workshop is not complete until it contains a vise. Rockwell's answer to this age-old clamping device is their new BenchJaws™. This benchtop vise has many of the same features as the Rockwell JawHorse®. It mounts to the corner of most workbenches. Unlike utility vises, whose jaws only open to 10 in., BenchJaws' secure objects up to 16 in. wide.
BenchJaws is a hands-free clamping system for workbenches. The jaws, are foot-pedal activated leaving the operator's hands free to handle the workpiece. BenchJaws is ideal for do-it-yourselfers, woodworkers, hobbyists and crafters, remodelers and automotive enthusiasts, by providing an extra set of hands. Refinishing a rocking chair, building a kid's stool or refurbishing a window frame are just some of the projects that make BenchJaws the ideal vise.
BenchJaws is constructed of heavy gauge, powder-coated steel for strength and rigidity. The 22 lb. workstation has a clamping range of 0-16 in, and supports loads up to 220 lbs. The vise generates up to one metric ton (2,200 lbs.) of clamping force. It accommodates most workbenches that are at least 34 in. high.
The Rockwell BenchJaws (RK9006, $99.99) and accessories; Extension Jaw, (RW9207, $39.99) and the Multipurpose Jaw, (RW9208, $39.99) are available through Woodworkers Supply, Menards, Amazon.com, http://www.rockwelltools.com and other websites. It's also available through regional hardware and home centers nationwide.
For dad's in the market for a new drill, Rockwell's new 16V MaxLithium Drill/Driver is a great all-around performer. It's compact, lightweight and powerful. Plus, Rockwell is one of the only power tool company's where batteries are free for life, once the tool's warranty is registered.
The Rockwell 16V Drill/Driver has a 3/8 in. keyless, single-sleeve chuck and a two-speed (0-400/0-1500, no-load rpm) gearbox. The 2.75 lb. drill/driver also has an auto spindle lock, 16-torque-setting clutch, forward/reverse button, LED work light and a low-battery-charge indicator.
When Rockwell's 16V Drill/Driver was tested against the leading major manufacturer's 12V tools, its 302 in. lbs. of torque matched or exceeded every other brand. The tool on a single battery charge outperformed the majors by driving more 1-5/8 in. drywall screws into 2 in. MDF board.
The Rockwell 16V Drill/Driver includes two, 1.3 Ah batteries, a 30-minute charger, double-end screwdriver bit and carrying bag.
The Rockwell 16V Drill/Driver (RK2600K2, $139.99) are available through Menards, Amazon, http://www.rockwelltools.com and other online websites, and regional hardware and home centers nationwide.