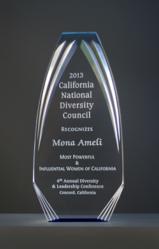 San Francisco, CA (PRWEB) May 22, 2013
San Francisco based Belcorp USA is honored to announce that its General Manager, Mona Ameli, has been recognized among the 2013 Most Powerful and Influential Women in the state of California by The National Diversity Council.
This honor came shortly after the DSN ranked Ameli among the Top 20 Most Influential Women in the Direct Selling Industry. While the DSN selection process was based on leadership and vision of companies that achieved the DSN Global 100, the National Diversity Council recognized achievement based on the professional success and empowerment of multicultural minorities in the US and their abilities to rise above numerous challenges and barriers. Ameli, who was born in Iran, raised and educated in France, and has now resided in the US for 17 years where she is leading the US subsidiary of a large Latin American company represents the epitome of diversity.
"Belcorp believes diversity is imperative to the growth of the company and to the industry as a whole," observes Ameli. There is no room for cultural or gender gaps at Belcorp USA where some 75% of managerial positions are filled by women. Additionally, management and staff represent over 12 different cultural ethnicities. However, Belcorp believes that diversity is not defined by just race and gender – it comprises age, personality, education, interests, experiences and skills. When all of these elements become intertwined, creativity and flexibility are given the fuel that is needed to grow in the ever-changing direct selling landscape. "Limiting diversity puts companies at an increased risk of losing a competitive edge in this hyper-connected global economy. We are proud of our strength in this area as it makes us different," Ameli says.
Belcorp understands that diversity is more than a corporate buzzword, it is a powerful element that should be leveraged by every company in every industry that wants to realize further growth or success. Ameli encourages leaders to diversify, to go beyond just talking about cultural intelligence to actually being the generator of diversity and creating a truly diverse organization.
About Belcorp USA
Belcorp International, Ltd. is a private, multi-brand, international corporation with over 45 years of experience in developing and selling products in skin care, fragrance, makeup, body care and hair care through a network of over 1 million Independent Distributors across the Americas. It is the 10th largest direct selling company in the world conducting business in 16 countries and has more than 9,000 employees. Established in 2005, Belcorp USA is a wholly-owned subsidiary that sells beauty products in the United States under the French-formulated L'Bel brand, which are available both online and through a large network of Independent Beauty Advisors nationwide. Products can be purchased online at http://www.belcorpusa.com or by calling 800.992.5235.
Media Contact Information:
Kate Seibert
Belcorp USA
kseibert(at)belcorpusa(dot)com