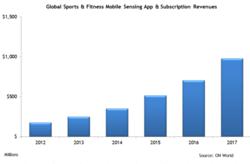 Some sports and fitness markets will be disrupted by the emergence of new general purpose mobile sensing products such as smart watches
San Diego, CA (PRWEB) May 23, 2013
Wearable sensors, smart mobile devices, MEMS sensors and a robust developer community have moved sports and fitness mobile sensing from early adopter to mass market. Enabled by low power wireless technologies such as ANT and Bluetooth Smart, dedicated mobile sensing sports and fitness solutions are quickly expanding to other health and wellness markets.
With $800 million in venture funding and hundreds of products, 2013 is becoming a pivotal year for health and fitness mobile sensing. By 2017, there will be 500 million annual sensor shipments for mobile sensing health and fitness applications and two-thirds of these will be for activity tracking. However, growth will not be equal for all markets.
"Some sports and fitness markets will be disrupted by the emergence of new general purpose mobile sensing products such as smart watches," says Mareca Hatler, ON World's research director. "Also, dedicated mobile sensing sports and fitness device manufacturers face intense competition from smartphones/tablets makers and app developers targeting integrated mobile device sensors."
Worldwide, there has been 150 million mobile sensing health and fitness app downloads so far and this is set to increase 900% over the next five years to 1.4 billion.
As profit margins continue to decline for hardware devices, paid mobile apps and subscriptions will become increasingly important. Global cumulative revenues between 2012 and 2017 for mobile sensing sports and fitness apps and subscriptions will reach $975 million.
ON World's recent survey (Q1:2013) with over 1,000 U.S. consumers found that fitness is ranked the single most important application for smart watches. This will be a key driver for fitness markets as many respondents are interested in using their smart watch with external fitness devices such as heart rate monitors and speed/cadence sensors. Of those interested in a smart watch, 20% are willing to pay at least $299 for a watch with integrated sensors for heart rate, activity tracking, blood pressure monitoring, etc.
After a decade of relatively few competitors, traditional sports and fitness device manufacturers such as BodyMedia (recently acquired by Jawbone), Garmin, Polar and Wahoo are now competing with dozens of new entrants such as Basis, Fitbit, Withings and Misfit. In addition, mobile app developers such as Runtastic and SportsTracker with millions of users are increasingly offering hardware devices such as heart rate monitors, activity trackers and sports watches.
Based on input from more than 2,000 individuals, "Mobile Sensing Sports & Fitness" covers the global market for mobile sensing solutions for sports and fitness including 5-year forecasts for dedicated devices, communication chipsets, sensors, health/fitness-enabled smart mobile devices, smart watches, subscriptions and mobile apps.
The report also includes primary research findings from several recently completed surveys, an in-depth analysis of the leading sports/fitness developers and their products and services. The technologies covered in the report include Bluetooth Classic, Bluetooth Smart, Wi-Fi, ZigBee, ANT, BodyLAN, NFC and others. The report may be purchased separately or as part of a set with another report, "Mobile Sensing Health & Wellness."
The report synopsis and a free executive summary is available from: http://www.onworld.com/mobilesensing/fitness
About ON World:
ON World provides global business intelligence on smart technology markets. Our market research and information services are sold to Fortune 1000 companies, startups and investors worldwide. http://www.onworld.com
Media Contact:
Mary E. Purvis
p: 858-259-2397
e: purvis(at)onworld(dot)com
###