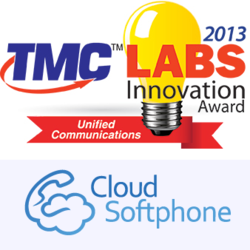 Prague, Czech Republic (PRWEB) May 24, 2013
Acrobits, the leading developer of mobile SIP clients for the iPhone and Android, today announced the latest update to Cloud Softphone. Cloud Softphone is designed to allow an inexpensive, no-hassle way for SIP providers and PBX administrators to provide their users with a professional, easy to setup, branded softphone already configured specifically to their service. Already, Cloud Softphone has been extremely successful at providing this service to its targeted market. And the latest update promises even more benefits, especially considering the addition of support for Push Notifications via Google.
The latest additions to Cloud Softphone include NFC provisioning, callback and call through support, flexible custom buttons in the account set up forms and Push Notifications. Since Push Notifications will work even when the app is closed, there is no more battery efficient way to receive VoIP calls. Since Acrobits has the only SIP Clients available on Android with support for Push Notifications, providers can even use this as a selling point to their users, the ability to receive incoming calls without the battery drain resultant with most VoIP clients on Android.
With Cloud Softphone's fair and flexible pricing, VoIP providers no longer need their users to rely on generic mobile SIP applications, which are difficult to configure, put heavy drain on the phone's battery and have user interfaces cluttered with confusing functions their users won't need. Instead, providers can have a branded, customized application tailored for their service, configured with a single QR code.
And Acrobits' dedication to quality and innovation has not gone unnoticed. Cloud Softphone was recently named a 2013 Unified Communications TMC Labs Innovation Award winner, presented by INTERNET TELEPHONY magazine. Providers and PBX administrators should take a look at the award winning Cloud Softphone now.
About Acrobits
Acrobits is a privately owned software development company with a focus on mobile software development. The company is based in Prague, Czech Republic and was established in November 2008. Three of its founders have been working as a team since 2003 and have developed several award-winning applications for a wide range of mobile devices. In 2008, the three teamed up with a Swiss entrepreneur and pioneer of VoIP technology and together founded Acrobits. Cloud Softphone is the latest addition to their award winning product line, including Acrobits Softphone and Groundwire.