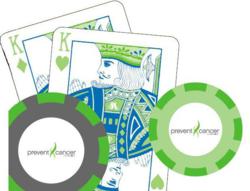 "This is always a terrific and exciting event that helps further the Foundation's innovative and lifesaving cancer prevention and early detection research and programs."
New York, NY (PRWEB) May 22, 2013
Michele and Drew Figdor will be hosting their 5th Bad Beat on Cancer Texas Hold'em Poker Tournament on May 29 at 7:00 PM to raise funds for the Prevent Cancer Foundation's cancer prevention and early detection programs. Professional Poker Player and philanthropist Phil Gordon will serve as the Master of Ceremonies. This year's event will add to the over $300,000 raised through the past tournaments, which has funded vital colon and ovarian cancer research.
Michele Figdor's commitment to cancer prevention comes from her own personal experience with the disease. Not only did she watch her grandmother suffer, but she also she witnessed her aunt's battle against ovarian cancer and her own mother's fight and triumph over uterine cancer.
"We are extremely honored to receive the proceeds from the Figdors' Bad Beat on Cancer Texas Hold'em Poker Tournament," said Prevent Cancer Foundation Executive Vice President and C.O.O. Jan Bresch. "This is always a terrific and exciting event that helps further the Foundation's innovative and lifesaving cancer prevention and early detection research and programs."
This year's tournament will be held at Astra in the D&D Building at 979 3rd Avenue, 14th Floor. Player registration is $500 and includes admission to event, $500 buy in fee, open bar and hors d'oeurves. Spectator tickets are also available for $150.
###
About The Prevent Cancer Foundation
Founded in 1985, Prevent Cancer Foundation is one of the nation's leading health organizations that has catapulted cancer prevention to prominence. Since its inception, the Foundation has provided more than $130 million in support of cancer prevention and early detection research, education and community outreach programs across the country.
For more information, please visit http://www.preventcancer.org.