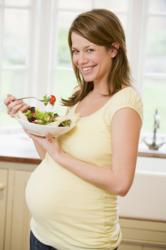 Dark green, leafy vegetables should be a staple in everyone's diet, but they are especially important during pregnancy.
Murrieta, CA (PRWEB) May 24, 2013
A study recently published in March 2013 issue of The Journal of the Federation of American Societies for Experimental Biology found a link between consuming junk food during pregnancy and health concerns later in the child's life. The study's findings "suggest that exposure to a maternal junk-food diet results in early desensitization of the opioid system which may explain the increased preference for junk food in these offspring."
"When opioid receptors are being suppressed a person feels an increased desire for less healthy foods, like ones high in sugars and fats. This puts kids in a position where they are more at risk at becoming obese," according to Brandon Siggard, CEO of Liquid Health, Inc. "This is a big reason why Liquid Health developed a prenatal multivitamin: to help supplement nutritional needs during pregnancy."
In addition to a high-quality prenatal vitamin, eating a good, well-balanced diet can help to provide a number of essential vitamins, minerals and nutrients that are vital to a developing baby's growth. Some of the most important nutrients and vitamins during pregnancy include calcium, folate and vitamin A. There are many food sources for these vital nutrients.
Avocado
Brandon Siggard says, "Folate is one of the most important things to support the development of a growing baby. This nutrient is vital to preventing the development of neural tube disorders in your baby." Avocados are a great natural source of this important nutrient. They are also a good source of other important vitamins like vitamin C and vitamin B6.
Yogurt
Calcium is extremely important during pregnancy, making yogurt an essential addition to any pregnancy diet. He also says, "Greek yogurt is not only a good source of calcium, it also provides great levels of protein. Yogurt can easily be added to a smoothie or mixed with fresh fruit to give it some variety."
Dark Green, Leafy Vegetables
"Dark green, leafy vegetables should be a staple in everyone's diet, but they are especially important during pregnancy," he added. Foods like spinach and broccoli provide good amounts of folate and calcium per serving, making them ideal for all pregnant women.
Milk
"It's well known that calcium is important for maintaining healthy teeth and bones, this nutrient is just as important for a baby's development of teeth and bones," he said. Pregnant woman should try to get between 1,000-1,300/mg of calcium/day. Consuming more milk during pregnancy is a great way to do this.
Carrots
"Vitamin A is vital to the development of a baby's bones, teeth and eyes. Carrots are packed with this essential vitamin, making them a great snack option for pregnant women," he added.
There are a number of ways to get all the nutrients needed during pregnancy. By combining a healthy diet with a good prenatal vitamin and avoiding junk food during pregnancy, pregnant women can go a long way to ensuring a happy and healthy pregnancy. All questions about diet and supplements during pregnancy should be asked of a professional medical provider.
About Liquid Health, Inc.:
Liquid Health, Inc. has been designing and manufacturing liquid vitamin supplements since 1991. All Liquid Health products, including Prenatal Multi, are manufactured in a certified-cGMP (current Good Manufacturing Practices) facility, using only premium/qualified ingredients, and are analyzed and tested. All Liquid Health products are made in the U.S.A.
Contact:
Sarah Brimhall, Marketing Associate
Liquid Health, Inc.
800-995-6607
http://www.liquidhealthinc.com