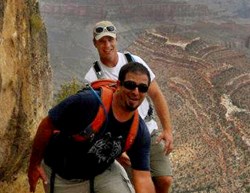 The support and guidance that I received while here at Back2Basics saved my life.
Flagstaff, Arizona (PRWEB) May 25, 2013
The current residents of Back2Basics - Long Term Drug and Alcohol Rehabilitation Center, their parents, and the B2B staff all came together Saturday, May 18th to celebrate the company's 3rd Birthday. While everyone enjoyed an array of Indian Cuisine, the residents got up to thank Roy Duprez, CEO and Founder of the company, for helping them on their road to recovery, and giving them a second chance at life.
DuPrez started the Drug and Alcohol center in 2010 after realizing the need for a long-term facility. What started with one resident and a vision to help young men in recovery, the program now has the capacity to support up to 18 young men in the residential and transition programs. Duprez wanted to create a place where recovering addicts had time to adjust to and get in the routine of sober living; hopefully making them realize how fun and fulfilling sobriety can be. After 3 years, with dozens of success stories, his original vision remains the same. "We are still doing the basic premise of the program: weekly outdoor trips, life skills and integrity development, 12 step work, group and individual therapy... and now we are doing more extensive outdoor trips," explains DuPrez.
Co-founder Graciela Del Moral has worked alongside Duprez since the beginning to help make his dream of Back2Basics a reality. "I am so proud to be a part of a project that cares about each individual that we offer our services to," Del Moral states. "I am so fortunate to be able to share the gift of recovery with the young adult community."
Among Back2Basics' ample amount of success stories, Chase Christensen was one of the first residents. He graduated from the program, and began interning as an outdoor guide for the company. He is now working full time as the Residential Supervisor. "I am around the guys on a day to day basis helping them learn life skills and preparing them for life after treatment," says Christensen. "The support and guidance that I received while here at Back2Basics saved my life. It is my goal to provide that for our current and future residents."
Presently, the company is at full capacity, with its residents living in two residential homes in Flagstaff. When asked about expanding, Duprez commented, "I recognize that we are not bottling soda pop... we want each individual to get individual attention. I just don't want that to change." For now, the waiting list will continue to grow, and Back2Basics will continue to change the lives of their residents for the better.