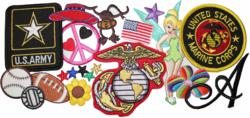 "Stocking up at sale time saves me hundreds! I buy rhinestone designs and iron on patches. I make t-shirts and matching tote bags for my daughter's friends' birthdays as well as all my family presents at Christmas time! - Christa M, Anaheim, CA
(PRWEB) May 24, 2013
This Memorial Day weekend, patch and rhinestone giant, Laughing Lizards is holding a huge iron on patch and rhinestone blowout sale. The coupon code: "13memorial" (just as it is typed here-no space and all lower case) should be inserted in the discount code box on the lower left of the cart screen before going to Checkout and customers will save 20% from all regularly priced appliques.
In this economy, where customers tend to be a little more thrift-minded, patches and rhinestones can help save a lot of money. Laughing Lizards customers range from mom's-patching their sons clothes to quilters, groups of creative crafty people to team coaches and boutique owners, either retail or Etsy stores. Many of them purchase blank items at low cost and iron on patches to turn the plain item into a totally customized and valuable piece. Teachers, sports teams and karate studios commonly use their stock iron on star patches to reward students or signify when they achieve higher levels. It's easy to find a use for these star patches as they are available starting at 1/2 inch size all the way up to 3 inches and every 1/2 increment between in a large variety of colors. If someone is in the market to have a custom patch or applique made, they can also turn artwork or a company logo into a patch or rhinestone applique so the customer can brand a wide variety of items such as work shirts, beanies, baseball caps, bags, etc...
Customer service is a high priority LaughingLizards.com who stands behind the product and is always courteous and helpful. This company has been supplying the online world with embroidered patches and rhinestones since 1989. It is easy to see why they are still around with their wide variety, good prices and loyalty to their customers. They are a family-owned business based in Southern California who do their best to treat all customers like family.
These days, when saving money is on the mind, stocking up when these iron on patches and rhinestones are on sale can lead to greater savings and higher profit margins for business owners.
The Sale started today and the coupon 13memorial is only good until this Tuesday.