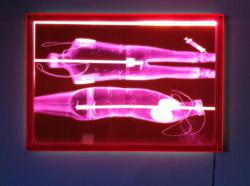 We are happy to see that such beautiful art can be created using our portable digital X-ray systems.
Tel Aviv, Israel (PRWEB) May 29, 2013
The work "Flying Angel", created by the artist Orit Freilich with the help of Vidisco's portable digital X-ray systems, is a great representation of her recent art pieces. Orit is first and foremost a fashion designer who got inspired to create fine art with the use of X-ray in an attempt to expose the inner realm of fashion. The Flying Angel demonstrates her inspiration from the fashion world as seamstress dolls are the focal point of the image. This piece as well as other similar works were included in the "Ha'Midrasha 15" art catalog distributed by the Academic Art College of Beit Berl in Israel. Orit's works have also been displayed and sold in various galleries worldwide.
Vidisco would like to take this opportunity and extend an invitation to other artists who are interested in using digital X-ray to try out the X Pro series, which are used to create high resolution images in seconds. The systems are also easy to set up and can be carried anywhere for maximum flexibility and comfort.
Vidisco's digital radiography systems are often used to help inspect art and artifacts of artistic or archaeological value without causing damage to the priceless inspected items. Vidisco's clients include various museums, restoration experts and collectors. With Vidisco's flat DDA technology, artifacts can be inspected on site with minimal movement. X-ray is used to authenticate and study the works.
Adar Yiron, Vidisco's VP Sales and Marketing stated, "We are happy to see that such beautiful art can be created using our portable digital X-ray systems. Only a very creative mind, such as Orit Freilich's, can think of X-raying such simple objects and making them into gorgeous art. We look forward to other artists using our systems to create artistic images."