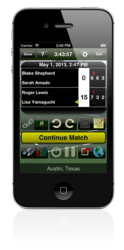 The most advanced tennis scorekeeper on the App Store with live broadcast of both score and statistics for remote viewing.
Austin, TX (PRWEB) May 30, 2013
Porpoiseful Apps today is pleased to announce Tennis Score Tracker 3.0 for iOS, a major update to its tennis score keeping app, 15 months in development. The app supports Singles, Doubles, Australian, and Canadian matches, and provides three scoring modes, Point, Game, and Advanced. In Advanced mode, users can score and draw the direction of the following: Ace, Let, Serve-In, Serve-Out, Service Winners, Return Winners, Winners, Forced Errors, and Unforced Errors. Foot Faults, Penalties, and Challenges are supported as well. Also included are Player Details, Comprehensive Statistics, Teams, Locations, and Live Broadcast of Scores.
FEATURES:

Scoring for Singles, Doubles, Australian, Canadian matches
Supports Junior Sets with clear 1 or 2 games option
Supports Pro Sets of 8 or 10 games
Three scoring modes (Point-By-Point, Game-By-Game, Advanced)
Scoring includes Ace, Let, Serve-In/Out, Foot Fault, Challenge, Penalty
Rally counts
Ad/No-Ad support
Tie-Breaks of 7, 10, or 12 points (at any time during play)
Suspend, Pause, or Forfeit matches
Edit serving order, set type, points, games, tie-breaks
Full Undo/Redo
Score sharing via email, text message, Facebook, and Twitter
Integration with Global Tennis Network website
LIVE SCORING:

Broadcast your tennis match for viewing by friends and family
Detailed match statistics provided with every score update
View live matches on a device running any current app version
Pause and resume matches at any time
Login via Facebook, Twitter, or email
Live scoring is available through in-app purchase of tokens
Allowing any of its three scoring modes to be set as the default (Point-By-Point, Game-By-Game, and Advanced), Tennis Score Tracker automatically records detailed statistics for every point, game, set, and match, while retaining statistics for each player in Singles or Doubles matches. Users simply tap the player's name for scoring points or games, or tap an advanced scoring button for detailed points, such as Ace, Let, Serve-In, Serve-Out, etc. Users can suspend matches for later play, including forfeits by any player.
STATISTICS:

Detailed statistics tables in portrait orientation with basic, advanced, and time statistics
Scrollable graphs in landscape orientation with pinch/zoom/filtering
Stats include 1st/2nd Serve %, Winners, Break Point Conversion/Saves, Aggressive Margin, etc.
Point History for shot-by-shot comparison of any match
Video playback controls for shot-by-shot analysis
Shot tracking on court view with drawing, text, video controls
View shot percentage by first serve, second serve, or both
Filter shot percentage by point type (e.g., Ace, Let, Serves In/Out, etc.)
VARIETY:

Add a variety of court surfaces (clay, grass, asphalt, etc.) with in-app purchase
Geo-location of matches with map integration
Team and event management
BENEFITS:

Log and share your tennis scores before you leave the court
Score matches for USTA leagues/tournaments
Score Junior tennis matches for JTT
Live tennis scoring for others to view tennis matches as they are played
Improve your tennis play by comparing tennis stats with any player
Learn which type of serve or shot works best versus any opponent
Manage team rosters for leagues and tournament play
In addition to automatic score keeping, the app simultaneously displays real-time stats on vertically scrolling, multicolor, bar graph displays with numerical legends. For example, in its Basic History mode, the following stats are displayed: Sets Won, Games Won, Points Won, Deuce Points Won, Break Point Conversions, Break Point Saves, and Tie-Breaks Won. Advanced History mode lets users record more than 15 details of play, such as various kinds of: Aces, Winners, Errors, Lets, Faults, Serve Types, and Penalties. Returns History permits recording of each return of serve, including: Hand (Fore/Backhand), Type of Shot (Drop, Ground Stroke, Lob, Overhead, Volley), Movement (Approach, Net Point, Passing, Cross Court, Down the Line), Spin (Top, Back, Flat), Behavior (Passive, Aggressive, Reflex), Pace (Fast, Medium, Slow), Detail Type (Slice, Block, Poach, Dink, Tweener), and Result (Ace, Dead Net, Miss Hit, Jamming).
Tennis Score Tracker is the only tennis-scoring app on the App Store providing:

Ability to challenge points
Player penalties
Integrated Live Scoring with statistics
Detailed shot attributes for game improvement
Most detailed statistics for matches and players
Scrollable match and player statistics graph with pinch/zoom/filtering
Detailed point history table
Court view with drawing, text boxes
Video playback controls for shot-by-shot analysis
Player comparison statistics tool
Multiple scoring modes
"Here is an easy way for tennis players to track their tennis scores..." stated Christopher Combes of Porpoiseful Apps. "Just tap a player name (or advanced scoring button) and it increments the score for you. Score point-by-point while watching a match, or game-by-game while playing a match. Coaches and Parents also enjoy using this app while scoring tennis matches. With the Live Scoring feature you can view both scores and stats from most anywhere. We call it Tennis Scores in your Pocket."
Language Support:

English, French, and Japanese
Device Requirements:

iPhone 3GS/4/4S/5, iPod touch (3rd/4th/5th generation), and iPad
Requires iOS 5.1 or later
38.6 MB
Pricing and Availability:
Tennis Score Tracker 3.0 is $12.99 (USD) and available worldwide exclusively through the App Store in the Sports category. Review copies are available on request. Tennis Score Tracker Free 3.0 is limited to three matches and is available free.
Tennis Score Tracker
http://www.tennisscoretracker.com/
Purchase and Download
http://itunes.apple.com/app/tennis-score-tracker-free/id632261225
Media Assets
http://www.tennisscoretracker.com/press.html
Screenshot 1
http://tennisscoretracker.com/img/overlay-1.png
Screenshot 2
http://tennisscoretracker.com/img/overlay-2.png