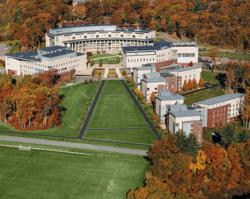 We are delighted with the agreement with Olin." said Insper President Claudio Haddad. "Their approach to engineering education is innovative, but with proven results.
Needham, Mass. (PRWEB) May 28, 2013
Olin College of Engineering and Insper, a highly regarded business school in Sao Paulo, have signed an agreement for Olin to assist Insper in the creation of a new and innovative engineering school to complement its business program. The new engineering program, which will be located on Insper's campus, is scheduled to open in the spring of 2015.
Under the agreement, Olin will provide workshops, consulting and assistance in several academic and operational areas, including program development, faculty hiring and admissions. Olin will help Insper create a new curriculum based on pedagogical approaches developed at Olin, which emphasize hands-on learning and entrepreneurial thinking as a way of producing graduates characterized by their creativity and ability to devise innovative solutions to problems.
"We are very glad to be working with Insper," said Olin President Richard K. Miller. "An important part of Olin's mission, and our strategy for our second decade, involves working with organizations, both domestic and international, to catalyze change in engineering education. Such change is vital if the world community is to prevail over the social and technological challenges facing our planet, and we believe Insper is a vital partner in this effort."
"We are delighted with the agreement with Olin." said Insper President Claudio Haddad. "Their approach to engineering education is innovative, but with proven results. Everybody I met there, from Rick Miller to other faculty and students, is highly motivated and able to articulate a clear vision and a narrative, consistent with the values and the problem-based and interdisciplinary approach of teaching and learning adopted by the school. I am sure that the partnership with Olin will be fundamental to the success of our engineering program."
The new program is the brainchild of Haddad, an entrepreneur and former banking executive who became president of Insper in 2004. Haddad took a struggling private institution with 600 students and turned it into a profitable 5,000-student university which Brazil's Ministry of Education rates as one of the top seven in the country. Academic leadership for the new program will be provided by Irineu Gianesi, director of new academic projects at Insper.
"I am very pleased to be entering into this collaboration with Insper," said Vincent P. Manno, provost and dean of faculty at Olin. "We have been very impressed with the integrity and vision of President Haddad and Dean Gianesi, and their evident determination to make this initiative a success. This will be a win for Olin, Insper, and, indeed, anyone committed to the transformation of engineering education."
"We view the Insper-Olin partnership as a perfect fit," remarked Dean Gianesi. "Both institutions are pioneering change and innovation in their respective fields and environments, and have the entrepreneurial spirit embedded. We share a common vision of acting as change agents in the education arena and we at Insper aim at being as influential to the engineering education in Brazil as Olin has proven to be in the United States and abroad. Creating a new school from scratch brings extraordinary opportunities but also poses difficult challenges. Olin's proven competence will certainly help Insper to overcome these challenges as well as to enrich our vision of innovation."
Haddad's plan to add a new engineering school at Insper is part of his vision to help his rapidly developing home country expand its technological leadership and become globally competitive in such areas as IT, bioengineering and nanotechnology. To accomplish that, Haddad and his supporters believe, will require engineering innovators on the Olin model. To fund the project, Haddad has raised money from corporations, banks, foundations and private investors.
Insper reached out to Olin to help catalyze innovation on its campus due to the Massachusetts college's growing reputation as a leader in engineering education innovation. Opened in 2002, Olin has developed into a kind of educational laboratory where faculty and students can discover new ideas for learning and try them out together.
Olin's project-centric, team-based curriculum is increasingly seen as a model for the fundamental reform of engineering education, a goal long sought by key members of the global engineering community. Leaders in academia, business and government have called for a thorough rethinking of engineering curricula and pedagogy to better align them with 21st century skill requirements, which call for multidisciplinary innovators with well-developed entrepreneurial instincts and global perspectives.
Olin has considerable experience in the kind of collaboration it will be undertaking with Insper. Olin currently offers summer workshops and strategic partnerships in engineering education innovation, with domestic and international collaborators eager to work with Olin to transform undergraduate engineering education on their campuses.
More than 200 institutions have visited Olin over the last two years to learn more about Olin's unique approach to undergraduate engineering education. Currently nine institutions are offering Olin-inspired curricula, including the University of Illinois at Urbana-Champaign, which has entered into a formal agreement with Olin to explore engineering education innovation.
The new engineering program will be modeled on Olin's innovative curriculum, which has students learn engineering by tackling actual engineering design problems from very early in the program.
Students work in teams, and faculty largely abandon the lecture style of teaching to become guides and mentors nurturing student interests and passions. Olin's student-centered curriculum and culture create a great deal of student engagement and commitment to engineering study. Olin's four-year graduation rate is above 90 percent, compared to a U.S. national average of less than 50 percent in engineering.
Translating Olin's program into a Brazilian context will be a major challenge of the new partnership. Currently the Brazilian educational system emphasizes a traditional theory-based approach in STEM education, and moving to the Olin model will necessitate a significant cultural shift.
However, Olin and Insper are optimistic the new partnership will succeed, given Olin's experience working with a diverse array of institutions and Insper's dedication to a creating a new educational model for Brazil. The agreement is in the form of a renewable one-year contract in which Insper will provide funding for Olin to develop sufficient capacity to carry out the project, which may require additional faculty hiring as well as program support infrastructure.
About Olin College
Located in Needham, Mass., and enrolling 350 students, Olin College is an undergraduate engineering institution that has been exploring innovative approaches to engineering education since its founding in 1997. Olin's dual mission is to offer an innovative engineering program to talented undergraduate students, and to play a leading role in the transformation of engineering education in the U.S. and abroad. Olin is increasingly recognized as a leader in engineering education reform for its interdisciplinary, hands-on curriculum and distinctive learning culture. To learn more, visit olin.edu.
About Insper
Located in Sao Paulo, Brazil, and enrolling 1,500 undergraduate and 3,500 graduate students, Insper is a stand-alone not-for-profit school of business, economics, law and engineering, recognized as one of the top institutions in Brazil. Insper is accredited by AACSB International and since its origin has been fostering innovation in business and economics education and research in the country. Insper will launch its new and innovative engineering program in 2015. To learn more, visit http://en.insper.edu.br/.