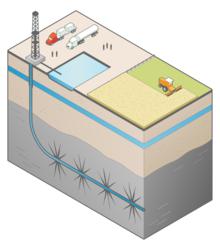 Health officials have long known about the health hazards of inhaling silica dust, which can increase the risk of silicosis, lung cancer, and other diseases.
Dallas, Texas (PRWEB) May 29, 2013
The law firm of Heygood, Orr & Pearson is announcing the launch of its new fracking injury and information website Silicosis Fracking Lawsuits (http://www.silicosisfrackinglawsuits.com/). The site will serve as a resource for news and information about natural gas drilling using the fracking process and its alleged link to an increased risk of silicosis and other diseases.
Hydraulic fracturing—or "fracking"—is a technique used to drill for natural gas and oil deposits that are trapped within shale or other rock formations. After a well is drilled, large amounts of water, silica sand, and "fracking fluids"—a mixture of several different chemicals—are pumped into the well, opening up tiny cracks in the rock. The sand pumped into the well holds these cracks open, allowing oil or natural gas to flow to the surface of the well.
Although fracking has allowed the United States to tap previously inaccessible reserves of oil and natural gas, the drilling technique is not without its concerns. In addition to warnings about the health hazards of exposure to the chemicals used in the fracking process, officials with the Occupational Safety and Health Administration (OSHA) and the National Institute for Occupational Safety and Health (NIOSH) have also warned about the danger posed by exposure to airborne silica sand created during the fracking operations.
Because the large volumes of silica sand used in the fracking process are transferred from machine to machine on the drilling site, clouds of airborne sand are created at these locations. Health officials have long known about the health hazards of inhaling silica dust, which OSHA and NIOSH warn can increase the risk of silicosis, lung cancer, and other diseases.
Silicosis is a respiratory disease which causes scarring in the lung tissue as a result of the presence of silica particles. The symptoms of silicosis include coughing, chest pain, shortness of breath, fever, fatigue, loss of appetite. In the most serious cases, silicosis can lead to respiratory failure, which may lead to death. Patients with silicosis may also be at an increased risk of developing other respiratory diseases, including lung cancer, bronchitis, chronic obstructive pulmonary disorder (COPD), tuberculosis, scleroderma, and kidney disease.
Despite knowing about the health risks of inhaling silica, NIOSH and OSHA have warned that many drilling companies have failed to provide their workers with the proper safety equipment to prevent them from being exposed to unsafe levels of silica dust. Even when workers are provided with safety equipment, many sites contain quantities of airborne silica sand in excess of the maximum levels allowed by federal health officials. In many cases, the volume of silica dust is so high that the respirators provided to fracking workers are unable to safeguard them from inhaling unsafe levels of silica powder.
Oil or natural gas drilling workers who were employed at a fracking site and have been diagnosed with silicosis, lung cancer, or other respiratory conditions may be eligible to file a lawsuit against the drilling company that was responsible for their exposure. Residents who lived in towns located near fracking sites may also be eligible to file a lawsuit.
For a free legal consultation and to find out more about filing a fracking silicosis lawsuit, contact the lawyers at Heygood, Orr & Pearson by calling toll-free at 1-877-446-9001, or by sending us an email at info(at)hop-law(dot)com.
About Heygood, Orr & Pearson
The lawyers at Heygood, Orr & Pearson (http://hop-law.com/) have represented hundreds of individuals in cases involving personal injury, wrongful death, commercial litigation, and business disputes. Our attorneys have tried over 200 cases to verdict, and have achieved verdicts and settlements for our clients totaling more than $300 million, including settlements of more than $50 million in 2012 alone.
In addition to cases involving fracking and silicosis, our law firm also represents clients in product and pharmaceutical liability cases involving a wide variety of products. These practice areas include situations involving bladder cancer among some Actos users; fentanyl pain patch overdoses; SSRI antidepressant birth defects; transvaginal mesh injuries; Pradaxa and some cases of excessive bleeding; pancreatitis among some cases of Byetta, Januvia, and Janumet; and table saw accidents. We also handle cases involving other areas of law, including class action lawsuits, commercial litigation, contract claims, qui tam whistleblower lawsuits, intellectual property disputes, and other practice areas.