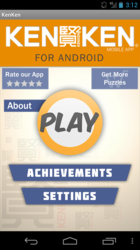 "After solving a few puzzles, I got completely addicted to KenKen. In some ways it's a much richer puzzle than sudoku. You want to keep advancing to try harder puzzles." - Will Shortz, NY Times puzzle editor
(PRWEB) May 30, 2013
The wait is finally over, the worldwide logic puzzle sensation KenKen® is now available for free on Android enabled devices. The KenKen® app possesses a progression mode, along with a choose-your-puzzle mode and many other exciting features.
Whether you like to play KenKen® alone, with family and friends, or in the classroom you can now play whenever and wherever you choose, on both Android and iOS devices including iPad and iPhone (available on the apple app store). Let your KenKen® addiction bloom this summer with the KenKen® App for Android!
KenKen® was invented in 2004 and has become the fastest growing puzzle since sudoku. Will Shortz, New York Times puzzle editor has called it "the most addictive puzzle since sudoku." KenKen® employs both logical reasoning and mathematical operations of addition, subtraction, multiplication and division into a game that can train the brain in way that is both fun and addicting.
For information on how to play KenKen® you can either watch the New York Times crossword puzzle editor, NPR host and puzzle guru, Will Shortz explains how to play KenKen in under 2 minutes (http://www.youtube.com/watch?v=vbmohVTtDgs) or visit http://www.kenken.com/howto/simple for a step by step tutorial.
About KenKen®
KenKen® logic puzzles were first invented in Japan by Tetsuya Miyamoto, promoted as "Kashikoku Naru Puzzle" or the "Makes You Smarter" puzzle, and brought to the rest of world through Nextoy, LLC. With the main goal being to improve students' cognitive abilities in mind, he developed a brain stimulating exercise that would be understandable, fun and challenging for students of all levels. Today, Mr. Miyomoto's classroom vision seems to have become a reality