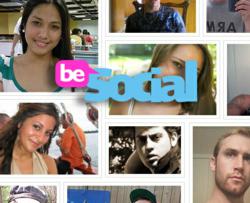 ...the same kind of award winning techniques we use to help our members find love can also be used to help our moderators weed out the spammers and scammers.
New York (PRWEB) May 31, 2013
Online dating sites all over the internet promise visitors an exciting dating environment and the opportunity to meet desirable singles in your local area right now, but that open invitation is also the kind of thing spammers and scammers look for unfortunately. BeSocial.com is putting outsiders on the defensive with tighter moderation and behind the scenes security measures that help real people find love online without wasting any social time.
"BeSocial has always had the same kinds of social tools other sites employ, allowing members to manually flag messages or report others who are misusing their access" said Darrell Rosebush, Program Manager of BeSocial.com. "What we are adding now is a whole new level of protection that includes intuitive moderation tools which quickly filter out undesirables, by identifying them instantly and taking permanent action to close their suspicious accounts."
When dealing with free sites online, many people have become accustomed to the idea that this comes with lackluster support or ineffective moderation, but BeSocial is emerging as a leader in the otherwise crowded dating site market by going against the grain to establish a new level of high quality services, while keeping full access available for anyone who wants to become part of the BeSocial dating community.
"The best part of these upgraded moderation techniques is that they are all proactive, based on an evolving set of behavioral models that continue to become more and more precise" said Mr. Rosebush.
"As it turns out, the same kind of award winning techniques used to help the members find love can also be used to help moderators weed out the spammers and scammers. That means BeSocial members can enjoy all of their time being social, setting up new dates and meeting potential soul-mates without preventable distractions. We understand that fixing something isn't good enough, so we are building a dating site that works properly for you in the first place. That's why so many singles have already voiced considerable approval for these innovative new measures."
Create your own BeSocial dating profile in less than a minute just head to BeSocial.com, and see for yourself. BeSocial team members are working right now to proactively quiet outside distractions to allow everyone to focus in on the romantic possibilities that matter most, giving better results for anyone who wants to Be Social right now!