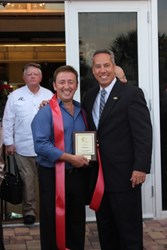 Miami, FL (PRWEB) May 30, 2013
VK Dance Center was honored by the City of North Miami Beach and its Chamber of Commerce with a ribbon cutting ceremony presided over by the Mayor of the City, George Vallejo. Victor Kanevsky was presented with a plaque commemorating the auspicious occasion. Even though the rain was coming down hard and heavy all day, an hour before the start of the ceremony, the skies parted and the sun came out, making for a beautiful event.
Several raffles have been presented to the visitors. They ranged from gift baskets full of cosmetics to a grand prize of free package of lessons at VK Dance.
Everyone enjoyed meeting the teachers and seeing the performances by some of the students of the studio. Maxim Shklyaryk, Igor Derimov and Victor Kanevsky himself danced three Latin dances with Shelby Kostyukovsky, her sister Rachel Kostyukovsky and Evette Ferrer. The ladies, ages 8-13 wowed the crowd with cha-cha, rumba and electrifying jive. Stage director Alexey Korablev presented excerpts from his new dance show program.
Even though VK Dance Center has been operating at this new home for a year and a half, this ribbon cutting ceremony signified the community's approval of a new neighbor. Support shown to us by all the city officials and other business owners who took their time to come out and join us was very heartening.
There is no denying the fact that taking care of one's body and soul at the same time would be beneficial to everyone, and that dancing, whether you are learning it or just moving to the music, is a perfect blend of both.
VK Dance Center provides one of the most unique environments for this therapeutic and fun activity. A quick look at our Google Virtual Tour will show that you have to search far and wide to find any other dance studio, school or club that would compare with what VK Dance has to offer. It's state of the art facilities combined with top of the line teachers and it's variety of disciplines and events are second to none. We look forward to see you in our midst very-very soon.