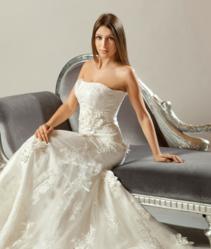 At InWeddingDress.com, our mission is to provide brides the ultimate fashionable, fitting dresses and outstanding personalized services.
(PRWEB) May 30, 2013
Today, InWeddingDress.com, a reliable leading supplier of wedding dresses and other special occasion dresses, has recently introduced its Custom Alterations Service, specializing in making any adjustments required, from the most minor to the most intricate, and rendering wedding dress unique with exceptional expertise.
The thrill of looking your best is irreplaceable. Whether it's for a wedding or a special occasion, an important aspect of looking as beautiful as possible is, of course, the dress. Every girl knows that simplifying the preparation process for the big day is crucial to having a good time. Wouldn't the perfect dress, custom tailored to your measurements and personalized requests, handmade from high quality fabrics and delivered to your door be a lifesaver? That's the idea behind one online wedding dress website InWeddingDress.com.
InWeddingDress.com specializes in custom made bridal gowns, and has just launched an exciting Custom Alterations Service giving the public access to a wide range of quality dresses made according to the brides' favor at very affordable prices. Shopping wedding dress on-line has become very popular in the past few years, because it is so convenient for those, who have no time to wander in shopping malls. Moreover, the progress of internet technology has made it easier to buy custom wedding dresses online.
Custom Alterations Service makes it possible for customers to customize their dresses by adding their own personal touches! Alterations will give their purchased dress a custom look, like it was just for her. InWeddingDress.com discusses with the bride what exactly the bride wants for her wedding gown, going over details like styles, fabrics, and embellishments. Dress prices vary depending on the complexity of the work and the design element chosen.
For example, customers can add a matching jacket in varying fabric, color and size to dress for coverage and elegance; customers can also add straps to any strapless gowns, add bows and sashes to coordinate with the party or change the neckline, the length of sleeves, train and so on. Each dress is a new and customized so even if the style the bride wants is not in the current catalogue, it is almost certain that it can be made so in effect, there is almost no limit on the selection available at InWeddingDress.com.
"In Fashion" is every woman's dream. At InWeddingDress.com, our mission is to provide brides the ultimate fashionable, fitting dresses and outstanding personalized services. InWeddingDress.com offers our customers only the best cost-effective deals. From the moment we founded InWeddingDress.com, our vision was to let worldwide people engage in reliable and first-class online shopping."
About InWeddingDress.com
InWeddingDress.com is a popular brand of wedding dresses and special occasion dresses. The company's main products include wedding dresses, bridesmaid dresses, flower girl dresses, mother's dresses, prom dresses and other related accessories. All of the products comply with international quality standards and are greatly appreciated in a variety of different markets throughout the world. They aim to provide people with better fashion products at cost-effective prices and best customer services.
For more information, please visit: http://www.inweddingdress.com