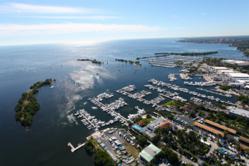 "That's the great thing about Florida is that a lot of the events we get to do here are right on the beach"
Miami, FL (PRWEB) May 29, 2013
Turquoise water. Yachts lined up on the bay. Beautiful sunrise. All are perfect scenarios for the perfect wedding and that's what Peekaboo Photo Booth got to be a part of on May 25th, 2013 in Miami, FL. Peekaboo did their usual thing of setting up shop with a photo booth rental while a loving couple spoke their vows to each other on a day that can only be described as picture perfect.
The wedding was held at the Biscayne Bay Yacht Club which sits in the Miami neighborhood of Coconut Grove. This area is home to such notable athletes and celebrities such as Lebron James, Frank Gore, and previously Madonna and Sylvester Stallone.
Andrew Birr, owner of Peekaboo Photo Booth states, "That's the great thing about Florida is that a lot of the events we get to do here are right on the beach. This event down in the Coconut Grove area of Miami is just in one of the most beautiful parts of the state. It definitely has some of the most gorgeous beaches and to have a wedding there has to be as close to a fairytale as you can get. I'm very excited that we were a part of this special occasion for these newlyweds."
About Peekaboo Photo Booth
With more than five years of experience, Peekaboo Photo Booth (http://www.peekaboophotobooth.com/orlando-photo-booth-rental/) has completed more than 1,000 successful events. The company offers classy, cabana-style booths that are easy to set up and simple to use. Based in Winter Park, Fla., Peekaboo Photo Booth is a privately owned firm that offers services nationwide. In addition to operating in the Orlando area, the company also has a presence in the following metropolitan areas: Phoenix, Miami, Los Angeles, San Francisco, San Diego, Houston, Dallas, Washington D.C., Philadelphia, Boston, Atlanta, Seattle, Chicago, and Detroit. Peekaboo Photo Booth has been in the Photo Booth Rental Business for over five years and celebrates a nationwide footprint servicing both private and corporate events.