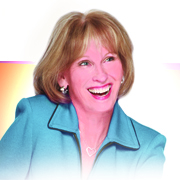 Excellent presentation.–world-class performance and abundant POSITIVE feedback from our group. You have an amazing combination of style, grace and candor. There was not a presentation following you that didn't reference you. You rock! - Cedia
Dallas, TX (PRWEB) May 29, 2013
Feeding America, the nation's leading domestic hunger-relief charity recently invited motivational speaker Connie Podesta to keynote their August event. Thrilled to present for a company whose mission is to feed America's hungry through a nationwide network of member food banks and fight to end hunger, Connie is developing a one-of-a-kind topic to reach the impassioned people who work so tirelessly to care for our nation's most vulnerable.
"I am both excited and honored to be asked to keynote the Feeding America event," shared Connie Podesta. "I am passionate about service, and inspired by the commitment of this organization, their team members, volunteers and their conviction to make a difference. My new topic "Helping Others Help Themselves: The Power of Compassion, Commitment and Community" is timely – especially in the wake of our recent tragic events such as the tornado in Moore, Oklahoma. This conference is a great opportunity to give back to the volunteers who have such a great passion for service and commitment to helping others. With humor and heart, I will teach what motivates people to survive and adapt even in the worst of situations so they can be prepared to help in every way they can."
Connie's Standout Strategies are helping organizations not just motivate and inspire their teams but to truly build strong, resilient resources that they can tap into for years to come. From mindset make-overs to powerful success strategies to the inside scoop on what makes people do what they do and say what they say, she's making a difference in the lives of both individuals and organizations as a whole.
To learn more about this new topic or for information on Podesta's schedule and availability or to learn more about her captivating, unforgettable presentation, contact her team today at 972-596-5501, via email at info(at)conniepodesta(dot)com. You can visit her website online at http://www.conniepodesta.com
Connie Podesta is a worldwide Motivational Speaker, Human Relations and Change Expert, Award-Winning Author, Comedienne, and so much more. She delivers high-impact, high-energy keynotes with humor, how-to's and momentum-sustaining solutions. Her strategies have been celebrated by industry leaders, top sales professionals, global leadership teams and more than two million audience members from around the world. She specializes in Sales, Leadership, Change and Service. If you're looking for a groundbreaking motivational speaker to make your next event extraordinary – contact Connie Podesta today.