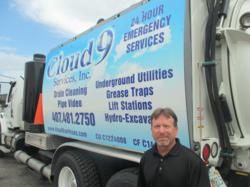 "Dion has extensive construction experience and knowledge working on site development, highway/road projects, and public utilities including waste/reclaim/potable water systems."
Orlando, FL (PRWEB) May 30, 2013
Fender reported, "Dion's hands on experience gives him a unique ability at solving intricate problems during all phases of a project, from pre bid to project closeout. He brings to us experience in estimating, and project management dealing with utility projects such as hydroexcavation and pipe repair. Dion has worked with numerous local, state, and federal agencies during his career, as well as working with the private sector."
Rick Fender stated, "Dion has extensive construction experience and knowledge working on numerous building projects and possesses a broad knowledge of site development, highway / road projects, and public utilities including waste/reclaim / potable water treatment plant facilities."
"In addition to his construction knowledge, Dion has strong supervisory and leadership capabilities and possesses a comprehensive knowledge of labor relations, formal problem solving techniques, and corrective action approach. He prides himself on keeping jobs on time and within budget, while maintaining a good relationship with owners, sub-contractors, architects/ engineers and government officials," explained Fender. "Dion considers himself an individual who is able to learn and understand new responsibilities quickly and correctly and he works well under pressure and is considered a great team player" Rick Fender said. "He is detail oriented and able to perform multiple tasks simultaneously and can meet frequent deadlines which is a must in the construction profession," Fender explained.
"His management skills are enhanced, not only from education, but hands-on construction experience. He has direct experience in some way in all sixteen CSI divisions, from placing steel rebar in concrete slab, hanging drywall and installing flooring to excavating hundred and fifty feet installing pipelines for wastewater/ potable water connecting to water treatment plants," Fender explained.
Fender stated, "having direct hand-on construction experience, education and management skills have helped his identify problems in advance, using his knowledge to help design alternative methods/ solutions to keep the progress of the project moving without delays. In return, he has saved not only our company, but also the owner and architectural/engineering firm's time and money on projects."
According to Rick Fender, Dion's responsibilities include the following:

Researching and evaluating new bid opportunities.
Preparing estimates for hydro-excavation, pipe repair and other projects.
Reviewing plans for constructability.
Value Engineering and Risk Analysis.
Preparing Project Schedules.
Managing Projects from pre-bid to closeout.
Marketing
Rick Fender stated "Dion obtained his Bachelor of Science, Construction Engineering and Design degree at University of Central Florida- with his Major in Architectural Design and Construction and a double minor in Civil Engineering and Economics (Business Track). He has related Course Work in Project Management, Cost Control and Planning, Estimating, Blueprint Reading, Financing and Managerial Accounting, and Business Communications."
"Dion's responsibilities are utilized in both our underground utility and site work," said Fender.
Fender expanded the information on the company by explaining, "Cloud 9 Services, Inc.'s key personnel included Xi Lu "Lucy" President, Rick Fender Vice President, Sally Li Office Manager, Michael Collins Senior Project Manager, Angelo C. Lopes Sr. Director of Operations, Dean Hurst Project Manager, Jose Negron Lead Sewer Technician and Tom Delgado Sewer Technician."
Cloud 9 Services, Inc. is a lift station cleaning, hydro-excavation and pipe repair contractor. Cloud 9 holds several Florida State Certified Contractor's licenses including Plumbing, Underground Utility and Excavation, Mechanical and General. Cloud 9 Services, Inc., located at 1201 West Jackson Street in downtown Orlando, FL, was founded by Rick Fender in 2001. Cloud 9 also specializes in commercial pipe repair, lift station cleaning, hydroexcavation and maintenance, storm and sanitary system pipe cleaning and repair.
Call Cloud 9 Services 24/7 at 407-481-2750