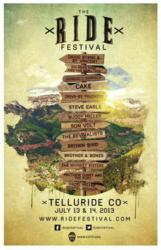 With an eclectic lineup, rock mentality and stunning setting, Ride Festival is one of Colorado's must-see summer events.
Telluride, Colorado (PRWEB) May 31, 2013
The Ride Festival recently announced its final installment – happening July 13th and 14th at Colorado's breathtaking Telluride Town Park. The 2013 Ride Festival lineup includes David Byrne & St. Vincent, Big Head Todd & The Monsters, Rodrigo y Gabriela, Cake, Drive-By Truckers, Steve Earle, Buddy Miller and Jim Lauderdale, Son Volt, The Revivalists, Brown Bird, Brother & Bones, The Whiskey Sisters, Matthew Curry and The Fury and Hazel Miller Gospel Brunch. Tickets are on sale now at RideFestival.com.
With its eclectic lineup, rock mentality and stunning setting, The Ride Festival has quickly gained a reputation among music fans as being one of Colorado's must-see summer events. For year two of this intimate mountain festival, music will spill out onto Telluride's charming Main Street for late night showcases by emerging talent from a variety of genres. Stay tuned for late night artist announcements and ticket giveaways on The Ride Festival's Facebook Page.
In addition to stellar live music, The Ride Festival's close proximity to the many outdoor activities that Telluride and Southern Colorado have to offer help make the festival a unique destination event. Attendees can enjoy hiking, biking, hot springs, and so much more – all in a truly majestic setting. Receive 15% off your Ride Festival lodging when you book with Telluride.com and Telluride Alpine Lodging.
About Telluride.com
Telluride.com is owned and operated by Telluride Alpine Lodging - the longest-standing, locally-owned and operated lodging company in the Telluride region. Offering a wide selection of hotel rooms, vacation homes and condominium rentals in both town & Mountain Village, Telluride.com is the only place to look to find the perfect Telluride vacation rental.
Media Contact:
Hart Roberts
Marketing Manager
(970) 728-3388, ext. 10155
Hart(at)Telluride(dot)com
@hartlroberts
###