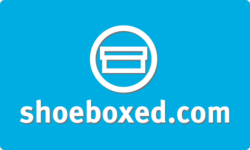 Using these averages, Shoeboxed's findings reveal that the average person spends $1,990 a year on fuel.
Durham, NC (PRWEB) May 30, 2013
Shoeboxed, the industry leader in cloud-based receipt scanning, has released a new infographic highlighting the secret link between high gas prices and lower taxes.
The infographic shares key data points on state gas prices and reveals the average mileage for a typical American vehicle every year. The current average lowest gas price in any state is $3.22, which can be found in South Carolina. The highest average gas price can be found in Hawaii, which has an average of $4.32.
The infographic also shares data that allows you to estimate how much you spend on gas per year in relation to the national average. The average American vehicle has a fuel efficiency of 30 miles per gallon and the average miles traveled for an American vehicle is 15,000 miles per year. Using these averages, Shoeboxed's findings reveal that the average person spends $1,990 a year on fuel.
In addition to sharing data about mileage and gas prices, Shoeboxed's infographic also offers a simple table of the Standard Mileage Rate (SMR) Deductions based on the different categories of tax deductions. With the recent increase in gas prices, three out of the four SMR Deductions have increased by one cent since 2012.
The infographic follows the recent release of the Shoeboxed Receipt and Mileage Tracker, available as a free download for iOS and Android. The mobile app is the newest product from the Durham-based SaaS company and builds on the previous Shoeboxed Receipt Tracker by adding mileage tracking functionality. Designed originally to allow users to quickly and easily digitize their receipts on the go, the addition of mileage tracking makes the app a one-stop solution for business travelers to track reimbursable receipts.
To read, download or embed the full infographic, please visit The Shoeboxed Blog.
About Shoeboxed:
Since 2007 Shoeboxed has been the preferred small business expense tracking solution for over 500,000 users worldwide. The pioneers of cloud-based receipt scanning, Shoeboxed saves small business owners time, money and hassle by turning receipts into an organized, categorized, IRS-accepted archive of secure data.
Shoeboxed offers a fully functional free plan, as well as premium plans that include a prepaid mail-in service for physical receipts. Shoeboxed also accepts receipts with their free smartphone apps, via their free desktop uploader, or at receipts (at) shoeboxed (dot) com. Shoeboxed is based in Durham, North Carolina, and has growing offices in both San Francisco, California, and Sydney, Australia.
To learn more, please visit https://www.shoeboxed.com today.